---
Burn After Reading (2008)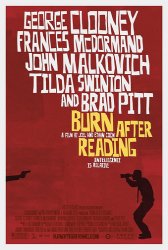 Starring: Brad Pitt, George Clooney, John Malkovich, Tilda Swinton, Frances McDormand, J.K. Simmons, Richard Jenkins
Director: Ethan Coen, Joel Coen
Release Date:

September 12th, 2008
Release Date:

17th October, 2008
Synopsis: Osbourne Cox, a Balkan expert, is fired at the CIA, so he begins a memoir. His wife wants a divorce and expects her lover, Harry, a philandering State Department marshal, to leave his wife. A diskette of Osbourne's musings falls out of a gym bag at a Georgetown fitness center. Two employees there try to turn it into cash: Linda, who wants money for elective surgery, and Chad, an amiable goof. They try to sell the disc back to Osbourne, who has a short fuse.
Status:
Burn After Reading Movie Trailer
About the Movie
Burn After Reading is a 2008 American black comedy film written, produced, and directed by Joel and Ethan Coen. The film stars George Clooney, John Malkovich, Frances McDormand, Tilda Swinton, Richard Jenkins, and Brad Pitt. It was released in the United States on September 12, 2008, and it was released on October 17, 2008 in the United Kingdom. The film had its premiere on August 27, 2008, when it opened the 2008 Venice Film Festival. The film is the brothers' first film following their Academy Award for Best Picture-winning No Country for Old Men.
---
'Burn After Reading' Stars
Brad Pitt, Ethan Coen, Frances McDormand, George Clooney, J.K. Simmons, Joel Coen, John Malkovich, Richard Jenkins, Tilda Swinton
---
'Burn After Reading' Movie Links

Burn After Reading on IMDb