---
Crazy Heart (2009)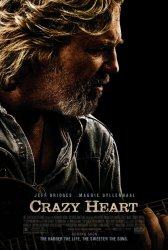 Starring: Jeff Bridges, Maggie Gyllenhaal, Rick Dial, James Keane, Anna Felix, Paul Herman, Tom Bower
Director: Scott Cooper
Release Date:

5th March, 2010
Synopsis: Bad Blake is a broken-down, hard-living country music singer who's had way too many marriages, far too many years on the road and one too many drinks way too many times. And yet, Bad can't help but reach for salvation with the help of Jean, a journalist who discovers the real man behind the musician.
Status:
Crazy Heart Movie Trailer
About the Movie
Crazy Heart is a 2009 American musical-drama film, written and directed by Scott Cooper and based on the 1987 novel of the same name by Thomas Cobb. Jeff Bridges plays Bad Blake, a down-and-out country music singer/songwriter who tries to turn his life around after beginning a relationship with a young journalist named Jean, portrayed by Maggie Gyllenhaal. Supporting roles are played by Colin Farrell, Robert Duvall, Beth Grant and child actor Jack Nation. Bridges, Farrell, and Duvall also sing in the film. The film's main character is based on a combination of Waylon Jennings, Kris Kristofferson and Merle Haggard. Cooper initially wanted to do a biopic on Haggard but found the rights to his life story were too difficult to obtain. The novel on which the film was based was actually inspired by country singer Hank Thompson. The film has been described by Leonard Maltin as "half Big Lebowski, half Urban Cowboy meets The Wrestler".
Filming took place in late 2008 in Albuquerque, Galisteo, and Santa Fe, New Mexico, as well as in Los Angeles, California. Producer and songwriter T-Bone Burnett, who also worked on the 2000 film O Brother, Where Art Thou?, composed original music for the film. The film was produced for $7 million by Country Music Television, and was originally acquired by Paramount Vantage for a direct-to-video release, but was later purchased for theatrical distribution by Fox Searchlight Pictures. It opened in limited release in the U.S. on December 16, 2009.
---
'Crazy Heart' Stars
Anna Felix, James Keane, Jeff Bridges, Maggie Gyllenhaal, Paul Herman, Rick Dial, Scott Cooper, Tom Bower
---
'Crazy Heart' Movie Links

Official Crazy Heart Movie Website


Crazy Heart on IMDb