---
Conan the Barbarian (2011)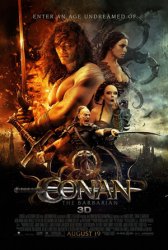 Starring: Jason Momoa, Stephen Lang, Rachel Nichols, Ron Perlman, Rose McGowan, Bob Sapp
Director: Marcus Nispel
Release Date:

August 19th, 2011
Release Date:

24th August, 2011
Running Time: 112 Mins
Synopsis: A quest that begins as a personal vendetta for the fierce Cimmerian warrior soon turns into an epic battle against hulking rivals, horrific monsters, and impossible odds, as Conan realizes he is the only hope of saving the great nations of Hyboria from an encroaching reign of supernatural evil.
Status:
titlexxx - Conan the Barbarian Movie Trailer
About the Movie
Conan the Barbarian is a 3-D sword and sorcery film based on the character Conan the Barbarian created by Robert E. Howard. The film, shot in 2010 and released in 2011, is a new interpretation of the Conan mythology, and is not related to the films featuring Arnold Schwarzenegger. It stars Jason Momoa in the titular role, alongside Rachel Nichols, Rose McGowan, Stephen Lang, Ron Perlman, and Bob Sapp with Marcus Nispel directing.
The film had spent seven years in development at Warner Bros. before the rights were shifted to Nu Image/Millennium Films in 2007, with a clause wishing for immediate start on production. Lionsgate and Sony Pictures entered negotiations for distribution, with the film seeing many directors, prominently Brett Ratner, before settling on Nispel in 2009 and subsequently bringing together a cast and crew. Filming began on March 15, 2010 and concluded on June 5, 2010. The film was first released on August 17, 2011 in four countries: France, Belgium, Iceland and the Philippines. For later releases, in other countries, see below.
---
Movie Reviews
Movie Review from EmpireOnline.com

John Milius' Conan The Barbarian, which turned Arnold Schwarzenegger from a body-builder with a joke name and accent into a major movie star, casts a long shadow. This isn't technically a remake — though yet again, the hero is seeking revenge for the murder of his father (the 'origin' trauma owes something to Once Upon A Time In The West), while the villain is assembling the plot coupons which will enable him to become an all-powerful bad wizard.

Read the Full Movie Review at EmpireOnline.com
Movie Review from TotalFilm.com

I live, I love, I slay – I am content!" states the barbarous Conan halfway through Marcus Nispel's sword-and-sorcery actioner. Those familiar with the 1982 version are unlikely to feel likewise after this tiresome reboot, a dull and desultory affair that'll leave you feeling as cheated as Arnold Schwarzenegger's missus. Having previously devalued the Texas Chainsaw Massacre and Friday The 13th series, Nispel hardly has the best rep when it comes to resuscitating moribund franchises.

Read the Full Movie Review at TotalFilm.com
Movie Review from Hollywood.com

Marcus Nispel's silly, violent fantasy epic Conan the Barbarian is Hollywood's second attempt at building a franchise based on pulp author Robert E. Howard's signature character. The first yielded two films of diminishing quality – 1982's Conan the Barbarian and 1984's Conan the Destroyer – and is best remembered for launching the career of future governor Arnold Schwarzenegger, whose Austrian accent in the films is so thick as to render the bulk of his dialogue unintelligible.

Read the Full Movie Review at Hollywood.com
Movie Review from Guardian.co.uk

In a land of chaos and ruin, where limbs are lopped off and stumps spout blood, and memories have faded of the hoary Arnold Schwarzenegger films of old, the hour has come to wheel Robert E Howard's barbarian action hero back out of retirement. As played by Baywatch graduate Jason Momoa, Conan possesses "the heart of a king, the loyalty of a bloodhound" and the air of a peeved, preening surfer who can't find the beach.

Read the Full Movie Review at Guardian.co.uk
Movie Review from TimeOut.com

You don't go into a remake of 'Conan the Barbarian' expecting a groundbreaking epic of cinematic genius. But, even with low expectations, this CG-heavy take on John Milius's beloved 1982 sword 'n' sorcery classic comes across as a half-hearted affair. Jettisoning everything that made the original work – the knowing stoner humour, the sprawling narrative canvas, the spit-and-sawdust special effects, Basil Poledouris's magnificent score and, of course, the Austrian Oak himself – this is a standalone story not worthy of the 'Conan' brand.

Read the Full Movie Review at TimeOut.com
Movie Review from Movies.com

Jason Momoa's boa-constrictor sized arms flail wildly about the screen, and his frowny mouth keeps yelling hyper-masculine vengeancy-type things, but all I can hear is "Me, Conan. You, 15 dollars poorer." As has become customary these days, I had trouble imagining why they bothered to remake this 1982 Schwarzenegger film, and after watching it, I still don't understand it. Was there really an outcry for more barbarian pictures? Only time and box office receipts will tell.

Read the Full Movie Review at Movies.com
Movie Review from Telegraph.co.uk

One from the "who needed this?" file, and prime fodder for anyone with an axe to grind against 3D, this joins the recent Nightmare on Elm Street and Arthur in a specially toasty circle of remake hell. TV hunk Jason Momoa steps into Arnie's sandals, but all the Goth eyeliner and frowning in the world couldn't count for a tenth of his predecessor's mad Teutonic ferocity.

Read the Full Movie Review at Telegraph.co.uk
---
'Conan the Barbarian' Stars
Bob Sapp, Jason Momoa, Marcus Nispel, Rachel Nichols, Ron Perlman, Rose McGowan, Stephen Lang
---
'Conan the Barbarian' Movie Links

Official Conan the Barbarian Movie Website


Conan the Barbarian on IMDb


Conan the Barbarian on Wikipedia