---
Friday the 13th (2009)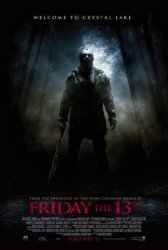 Starring: Jared Padalecki, Danielle Panabaker, Amanda Righetti, Travis Van Winkle, Derek Mears, Aaron Yoo
Director: Marcus Nispel
Release Date:

February 13th, 2009
Release Date:

13th February, 2009
Synopsis: Young friends Whitney, Mike, Richie, Amanda, and Wade end up missing in the woods near the abandoned Camp Crystal Lake, after allowing their curiosity to get the better of them and visiting the site where a physcopathic killer resides. Their seemingly fun weekend soon escalates into a nightmare after lone traveler Clay shows up looking for his missing sister Whitney and the young adults soon find themselves face to face with evil reborn, reimagined, and rebooted, and his name is Jason Vorhees.
Status:
Friday the 13th Movie Trailer
About the Movie
Friday the 13th is a 2009 American slasher film directed by Marcus Nispel, and written by Damian Shannon and Mark Swift. It is a reboot of the Friday the 13th film series, which began in 1980 and previously released the 2003 crossover Freddy vs. Jason. Nispel also helmed the 2003 remake of Tobe Hooper's The Texas Chain Saw Massacre (1974), while Shannon and Swift wrote the screenplay for Freddy vs. Jason. The film stars Derek Mears as Jason Voorhees, with Jared Padalecki, Amanda Righetti, and Danielle Panabaker portraying the male and female leads. Friday the 13th follows Clay Miller (Padalecki) as he searches for his missing sister, Whitney (Righetti), who is taken by Jason while camping in the woods at Crystal Lake.
The concept for the 2009 film originally started as an origin story, but the film evolved into a reimagining of the first four Friday the 13th films. Along with bringing the film back to its tonal roots, Jason was designed as a leaner and faster killer, with a backstory that could provide a little sympathy for the character, but not enough that he would lose his menace. Although this film reboots the continuity, Jason's iconic hockey mask, which was not introduced until the third film in the series, is acquired through the progression of the film. In keeping with the tone of the film, Jason's mask was also brought back to its roots, created from a mold of the original mask used for Part III; though, subtle changes were made to keep it unique to the new film. Friday the 13th also incorporated some of Harry Manfredini's music score from the original Friday the 13th film series, as the producers recognized the iconic status it held.
The film was released on Friday, February 13, 2009 to the most theaters of any of the Friday the 13th films. Although the film was met with primarily negative reviews, it earned approximately $19 million in its opening night and $40 million for its opening weekend. With its opening weekend, Friday the 13th broke two records, having the largest opening day for the film series, and the largest opening weekend for any horror film. It currently sits as the second highest grossing film in the Friday the 13th franchise with $65 million, and has earned over $91.3 million worldwide.
---
'Friday the 13th' Stars
Aaron Yoo, Amanda Righetti, Danielle Panabaker, Derek Mears, Jared Padalecki, Marcus Nispel, Travis Van Winkle
---
'Friday the 13th' Movie Links

Official Friday the 13th Movie Website


Friday the 13th on IMDb