---
Country Strong (2010)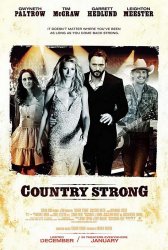 Starring: Gwyneth Paltrow, Tim McGraw, Garrett Hedlund, Tina White, Leighton Meester, Marshall Chapman
Director: Shana Feste
Release Date:

December 22nd, 2010
Release Date:

25th March, 2011
Running Time: 117 Mins
Synopsis: A drama centered on a rising country-music songwriter who sparks with a fallen star. Together, they mount his ascent and her comeback, which leads to romantic complications involving her husband/manager and a beauty queen-turned-singer.
Status:
titlexxx - Country Strong Movie Trailer
About the Movie
Country Strong (originally titled Love Don't Let Me Down) is a 2010 country drama film about fictional country singer Kelly Canter, portrayed by Gwyneth Paltrow. Also starring Leighton Meester, Tim McGraw, and Garrett Hedlund, the film was directed and written by American filmmaker Shana Feste. It premiered in Nashville on November 8, 2010, and had a wide release in the United States on January 7, 2011. This is the second film in which McGraw and Hedlund have worked together, the first being Friday Night Lights in 2004 where they played father and son.
---
Movie Reviews
Movie Review from EmpireOnline.com

If you're the type of person who likes both kinds of music, Country and Western, you'll eat up this spirited slice of Crazy Heart Lite like a bowl of momma's grits. And if the appeal of C&W — even the less maudlin, rocked-up end of it — does elude you, you might still find Country Strong mildly diverting. Garrett Hedlund works his butt off as a striving singer-songwriter who falls in with a faded star (Gwyneth Paltrow, also game) on his rise to the top. And Nashville royalty Tim McGraw bestows big-time credibility as Paltrow's manager-husband.

Read the Full Movie Review at EmpireOnline.com
Movie Review from TotalFilm.com

Giving Gwyneth Paltrow her first lead role since 2005's Proof, Country Strong may stride about in cowboy boots, but it walks a familiar plotline. Country music star Kelly Canter (Paltrow) is trying to make a fresh-fromrehab comeback under the direction of husband/manager James (real-life country star Tim McGraw), with possible protégé Beau (Garrett Hedlund) reluctantly jumping from honkytonks to concert arenas and possible replacement Chiles Stanton (Leighton Meester) snapping at Canter's heels.

Read the Full Movie Review at TotalFilm.com
Movie Review from Hollywood.com

Frankly, I'm amazed that Gwyneth Paltrow even had time for a vanity project, what with all the hours she devotes to her blog, her famous family, feature roles in summer blockbusters and guest appearances on Glee. And as vanity projects go, Shana Feste's music melodrama Country Strong is no trifle. It's a veritable tour-de-force: Paltrow sings, (sort of) dances, and treads stoutly though such hazardous emotional territory as addiction, infidelity, heartbreak, and even martyrdom, decorating it all with a thick Texas twang to boot.

Read the Full Movie Review at Hollywood.com
Movie Review from Guardian.co.uk

Gwyneth Paltrow sings her own material in this mindblowingly mawkish and self-indulgent country-music movie. Watching it is like drinking a mix of Texan corn syrup and Dolly Parton hair toner. Paltrow plays troubled singing star Kelly Canter, dealing with addiction issues and attempting a comeback tour with ambitious young crooner Beau Hutton (Garrett Hedlund) and purty, sassy young rival Chiles Stanton (Leighton Meester) lower down the bill. Sometimes she keeps it together, but sometimes the vodka bottle appears from nowhere.

Read the Full Movie Review at Guardian.co.uk
Movie Review from Movies.com

There are pleasures to be found in Country Strong, and they're mostly of the same variety: guilty, like the most delicious soap operas and reality TV meltdown shows you'd never admit to watching. Helmer Shana Fest, responsible for both the script and its uneven execution, has a predilection for moving the story along with melodramatic cornball devices and clunky directorial choices – but thankfully, her cast rises to the occasion to fill in the gaps.

Read the Full Movie Review at Movies.com
Movie Review from Telegraph.co.uk

Pauline Kael complained that Meryl Streep made a career out of seeming to overcome being miscast. What would she have made of Gwyneth Paltrow in Country Strong? Her character, Kelly Canter, is a hard-living, tantrum-throwing, alcoholic country diva let out early from rehab, so that her husband-manager (Tim McGraw, real-life husband of Faith Hill) can orchestrate a comeback tour. Even a Paltrow fan (I remain one) would have to concede that her willowy frame and perfect skin do not betray a lifetime of vodka-swilling and throwing up in hillbilly bars.

Read the Full Movie Review at Telegraph.co.uk
---
'Country Strong' Stars
Garrett Hedlund, Gwyneth Paltrow, Leighton Meester, Marshall Chapman, Shana Feste, Tim McGraw, Tina White
---
'Country Strong' Movie Links

Country Strong on IMDb


Country Strong on Wikipedia