---
On the Road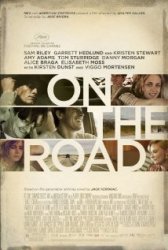 Starring: Sam Riley, Garrett Hedlund, Kristen Stewart, Amy Adams
Director: Walter Salles
Release Date:

December 21st, 2012
Release Date:

12th October, 2012
Running Time: 124 Mins
Synopsis: Young writer Sal Paradise has his life shaken by the arrival of free-spirited Dean Moriarty and his girl, Marylou. As they travel across the country, they encounter a mix of people who each impact their journey indelibly.
Status:
On the Road Movie Trailer
About the Movie
On the Road is a 2012 film adaptation of the Jack Kerouac cult classic novel of the same name. It is a Brazilian-French-UK-US co-production, directed by Walter Salles and starring Garrett Hedlund, Sam Riley, Kristen Stewart, Amy Adams, Tom Sturridge, Danny Morgan, Alice Braga, Elisabeth Moss, Kirsten Dunst and Viggo Mortensen. It is being executive produced by Francis Ford Coppola. Filming began on August 4, 2010, in Montreal, Quebec, with a $25 million budget.
The story is based on the years Kerouac spent travelling the United States in the 1940s with his friend Neal Cassady and several other figures who would go on to fame in their own right, including William S. Burroughs and Allen Ginsberg.
On May 23, 2012, the film premiered in competition for the Palme d'Or at the 2012 Cannes Film Festival. The film received mixed early reviews after it premiered at the film festival. The movie was also premiered at the 2012 Toronto Film Festival in September.
On December 2012, National Board of Reviews named On The Road one of the Top 10 Independent Films of 2012.
---
'On the Road' Stars
Amy Adams, Garrett Hedlund, Kristen Stewart, Sam Riley, Walter Salles
---
'On the Road' Movie Links

On the Road on IMDb


On the Road on Wikipedia