---
Sunshine Cleaning (2008)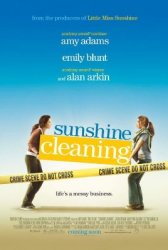 Starring: Amy Adams, Emily Blunt, Alan Arkin, Jason Spevack, Steve Zahn, Mary Lynn Rajskub, Clifton Collins Jr.
Director: Christine Jeffs
Release Date:

March 13th, 2009
Release Date:

26th June, 2009
Synopsis: Once the high school cheerleading captain who dated the quarterback, Rose Lorkowski now finds herself a thirty something single mother working as a maid. Her sister Norah, is still living at home with their dad Joe, a salesman with a lifelong history of ill-fated get rich quick schemes. Desperate to get her son into a better school, Rose persuades Norah to go into the crime scene clean-up business with her to make some quick cash.
Status:
Sunshine Cleaning Movie Trailer
About the Movie
Sunshine Cleaning is a 2009 dramedy film starring Amy Adams and Emily Blunt. Directed by Christine Jeffs and written by Megan Holley, the film premiered at the 2008 Sundance Film Festival on January 18, 2008. It was purchased by Overture Films for distribution and opened in limited release in the United States on March 13, 2009. The film was released on DVD and Blu-ray on August 25, 2009.
---
'Sunshine Cleaning' Stars
Alan Arkin, Amy Adams, Christine Jeffs, Clifton Collins Jr., Emily Blunt, Jason Spevack, Mary Lynn Rajskub, Steve Zahn
---
'Sunshine Cleaning' Movie Links

Sunshine Cleaning on IMDb