---
Cyrus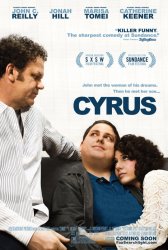 Starring: John C. Reilly, Jonah Hill, Marisa Tomei, Catherine Keener, Matt Walsh, Diane Mizota
Director: Jay Duplass, Mark Duplass
Release Date:

10th September, 2010
Synopsis: John is seven years divorced from his wife and is having trouble adjusting to his new life. After meeting Molly at a party, he thinks that maybe he has found the perfect person again. There's just one problem: Cyrus, Molly's grown son. John must find a way to make his romance with Molly work despite intentional and unintentional interference by Cyrus.
Status:
About the Movie
Cyrus is a 2010 comedy drama film written and directed by brothers Jay and Mark Duplass and starring John C. Reilly, Jonah Hill, Marisa Tomei and Catherine Keener.
---
Movie Reviews
Movie Review from EmpireOnline.com

Here's an idea for a high-concept comedy, tailor-made to fit Adam Sandler's new middle-aged career phase. He'd play a down-on-his-luck divorcé whose relationship with the woman of his dreams is stymied by her slightly twisted grown-up son. With a team of scriptwriters and polishers, and maybe a producer credit for Judd Apatow, it would have all the makings of a cookie-cutter Hollywood comedy, somewhere between 2008's Step Brothers and 1997's Addicted To Love.

Read the Full Movie Review at EmpireOnline.com
Movie Review from TotalFilm.com

Most romcoms mount barriers to love's inevitable triumph.
The third film from mumblecore men Jay and Mark Duplass follows suit with a wickedly playful twist: the bar to romance between depressed fortysomething John (John C. Reilly) and the kindly, sexy Molly (Marisa Tomei) is her rotund 21-year-old son Cyrus (Jonah Hill), a creepily smirking momma's man with passive-aggressive tendencies.
Slobby Cyrus is just one of many genre twists here. The opening mixes gross-out with cringe comedy, as John is caught masturbating by ex-wife Jamie (Catherine Keener).

Read the Full Movie Review at TotalFilm.com
Movie Review from Guardian.co.uk

The Duplass brothers, veterans of the lo-fi indie movement known as mumblecore, go "mainstream" here, which means studio backing and a vaguely recognisable cast. But whatever indie values they've brought with them, this amiable but undernourished romcom is unlikely to rock the system to its foundations, or even give it a slight wobble. John C Reilly and Marisa Tomei are two second-timers enjoying the novelty of their new love, but the spanner in their works is Tomei's 21-year-old son Cyrus, played by Jonah Hill.

Read the Full Movie Review at Guardian.co.uk
Movie Review from TimeOut.com

Mumblecore goes mainstream! It's been on the cards for a while now – last year's Apatow-goes-improv male-bonding comedy 'Humpday' came close to breaking out of the indie ghetto – but 'Cyrus' marks the point when this long-percolating DIY hipster subgenre, famed for its naturalistic dialogue, awkward pauses and painfully extended camera takes, finally hits the big time.
It's largely down to the cast: John C Reilly plays John, a divorced schlub who thinks he's hit the jackpot when he successfully hits on foxy singleton Molly (Marisa Tomei) at a swanky LA party.

Read the Full Movie Review at TimeOut.com
Movie Review from Movies.com

Another entry in the funcomfortable genre of awkward comedy, this one would make a great anti-nice double feature with the Ben Stiller-starring Greenberg. The same rules apply: artfully "inept" handheld camerawork, intentionally go-nowhere dialogue that somehow still manages to cut through to the heart of what's eating at the people on screen, and a determination to avoid movie-like catharsis. But, like all good pained comic characters, their misery is funny to us if not to them–and that's just how it should be.

Read the Full Movie Review at Movies.com
---
'Cyrus' Stars
Catherine Keener, Diane Mizota, Jay Duplass, John C. Reilly, Jonah Hill, Marisa Tomei, Mark Duplass, Matt Walsh
---
'Cyrus' Movie Links

Cyrus on IMDb