---
What Just Happened? (2008)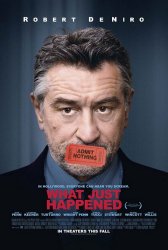 Starring: Robert De Niro, Catherine Keener, Bruce Willis, Stanley Tucci, John Turturro, Kristen Stewart, Robin Wright Penn, Michael Wincott, Sean Penn
Director: Barry Levinson
Release Date:

October 17th, 2008
Release Date:

28th November, 2008
Synopsis: "What Just Happened" is a winningly sharp comedy about two nail-biting, back-stabbing, roller-coaster weeks in the world of a middle-aged Hollywood producer — as he tries to juggle an actual life with an outrageous series of crises in his day job.
Status:
What Just Happened? Movie Trailer
About the Movie
What Just Happened is a satirical comedy-drama directed by Barry Levinson starring Robert De Niro, produced by 2929 Productions, Art Linson Productions and Tribeca Productions, and was released on October 17, 2008.
The film is based on the book, What Just Happened? Bitter Hollywood Tales from the Front Line, by Art Linson, about his experiences as a producer in Hollywood.
This film was shown at the Cannes Film Festival on Sunday, May 25, 2008.
---
Movie Reviews
Movie Review by Marty Meltz
Quality – 7 out of 10
Not hilarious, but it's definitely dry humor at a sophisticated level. And the subject matter is delicious. It's been said that after all financing, technical, directorial, casting, editing, film politics and personalities are taken into account, it is a miracle that any motion picture film ever gets completed and released. So that any movie that takes up the challenge of treating the high anxieties, ripping neuroses and raging jealousies in the film community is on automatic pilot when it comes to creating chuckles – and pity, that is, to the extent that you can pity multi-millionaires.
In "What Just Happened?" here goes Hollywood focusing on itself again. And, of course, it works. The way in which movies are now and have always been produced, this kind of story base offers an open field for narratives of ruthless intrigue, backstabbing and deceit. And with today's average big-star film budget running at $68 million plus $40 million for publicity, you can add a resounding note of desperate dealings between choked-up production people as the deadlines for their film release looms.
Here again are those well-known characters who never say what they mean or mean what they say, who speak only in fluent indirection in terms of what they know the listener wants to hear, who know perfectly well that their conversations are 180 degrees from honesty. And, almost comically, that their gamesmanship is obvious to their listeners and, even further that each party knows that the other knows that s/he knows, and who knows that s/he knows.
In the plot, there is an irritating failure, for awhile, in taking on a clear direction to final suspense. Any stakes with which you can get involved and sympathize are absent over the first hour. Yet the amusing interactions are not unlike those in our own lives; it's just that so many millions of bucks hang on words, implications, connotations, risks and one-upmanship that the conflicts have a pedigree all their own.
Robert De Niro, as a producer, leads us in a savvy manner in his take-no-prisoners world of treacherous egos.
So this plot starts its roll at the final cut of an art action film, "Fiercely," which will star Sean Penn. For its ending, the film shows an excessively bloody shooting of Penn's character, then a dog, not faked. Before a shocked test-screening audience, the film bombs.
The studio chief (Catherine Keener) orders veteran producer Ben (Robert DeNiri) to get a re-edit, starting with the dog sequence. Ben hires flamboyant director Jeremy Brunell (Michael Wincott) to make the changes necessary for the looming Cannes Film Festival in which the film is on schedule for opening night.
Ben, meantime, has his own personal problems. For one thing, he's of the unwanted knowledge that his pretty teenage daughter Zoe (Kristen Stewart) is out cavorting in all the wrong things. For another, Ben being still in love with his second ex-wife Kelly (Robin Wright Penn), is frustrated by the fact of her regular bedtime trysts with a screenwriter acquaintance (Stanley Tucci).
In Ben's professional life he's having facedowns with his temperamental star Bruce Willis (playing himself) in the matter of a major film that's to begin shooting in a few days. Seems the role requires that he be clean-shaven and currently he's sporting a mangy beard which, he makes understood, he's been nurturing for six months. The financiers have advised Ben that either the beard goes or the whole picture goes. This mess sends Ben to the star's neurotic agent Dick Bell (John Turturro). That's another problem: wimpy Bell's severe stomach disorder doesn't help the fact of his being frightened before his own client.
In these many lives that are high-end formulas for ulcers, the ending forces all players to come to terms at the Cannes premier.
Veteran director Barry Levinson has endowed each and every facedown with a special tension all in itself. Deftly paced (the marriage therapist office visit for Ben and Kelly is choice), the film rivets you to conflicts that are far from your world but whose elements are so basic as to be universally sardonic.

Read More Movie Reviews at Marty at the Movies
---
'What Just Happened?' Stars
Barry Levinson, Bruce Willis, Catherine Keener, John Turturro, Kristen Stewart, Michael Wincott, Robert De Niro, Robin Wright Penn, Sean Penn, Stanley Tucci
---
'What Just Happened?' Movie Links

Official What Just Happened? Movie Website


What Just Happened? on IMDb