---
Red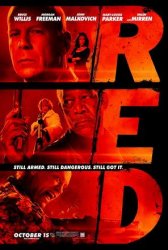 Starring: Bruce Willis, Mary-Louise Parker, Morgan Freeman, Richard Dreyfuss, Karl Urban, John Malkovich, Helen Mirren
Director: Robert Schwentke
Release Date:

October 15th, 2010
Release Date:

22nd October, 2010
Synopsis: Frank, Joe, Marvin and Victoria used to be the CIAs top agents but the secrets they know just made them the Agencys top targets. Now framed for assassination, they must use all of their collective cunning, experience and teamwork to stay one step ahead of their deadly pursuers and stay alive. To stop the operation, the team embarks on an impossible, cross-country mission to break into the top-secret CIA headquarters, where they will uncover one of the biggest conspiracies and cover-ups in government history.
Status:
About the Movie
Red is an upcoming 2010 American action film based on the comic book limited series of the same name created by Warren Ellis and Cully Hamner, and published by the DC Comics imprint Homage. The film will star Bruce Willis with Robert Schwentke directing a screenplay by Jon Hoeber and Erich Hoeber. The film is scheduled for worldwide release on October 15, 2010.
In the film version, the title of the film, "Red", is derived from the stamp on agent Frank Moses' (Bruce Willis) file, meaning "retired, extremely dangerous".
---
Movie Reviews
Movie Review from EmpireOnline.com

Well, you have to laugh. Which, since RED is a comic thriller, adapted from Warren Ellis and Cully Hamner's darker graphic novel, is fortunate. Over 20 years since Die Hard, Bruce Willis is still playing that guy — sardonic, wisecracking, good at killing (though he does so without exposing as much of his torso) — and it works a treat. This time Willis is ex-CIA agent Frank Moses, who in retirement mystifyingly lives in Ohio suburbia pretending he was just an analyst and finding excuses to ring single civil servant Sarah (Mary-Louise Parker), who deals with his pension, so he can flirt a bit long-distance.

Read the Full Movie Review at EmpireOnline.com
Movie Review from TotalFilm.com

For a town as youth-obsessed as Hollywood, there's been a surprising amount of oldies on view of late. The Bucket List, It's Complicated, Sex And The City. Never shy of chasing a dollar, the industry seems to have woken up to the fact that the baby boom generation doesn't want to trek to the multiplex to see angsty teenage vamps or spandex superheroes. But just because the leads have got older, it doesn't mean they can't still kick ass. Hence: the geri-actioner. All your standard explosions, guns etc, but now with added wrinkles. And so, hot on the calloused heels of Gran Torino, Harry Brown and The Expendables comes graphic-novel adap Red, the latest addition to the "I'm getting too old for this shit" canon. And possibly the most fun.

Read the Full Movie Review at TotalFilm.com
Movie Review from Hollywood.com

RED, an entertaining if uneven action comedy directed by Robert Schwentke (The Time-Traveler's Wife) and based on a graphic novel by Warren Ellis, could be called Grumpy Old Spies, but that would be a tad inaccurate. (But damn if it isn't convenient!) The title is an acronym for Retired, Extremely Dangerous, a label applied in the film to former CIA agents Frank (Bruce Willis), Joe (Morgan Freeman), and Marvin (John Malkovich), and ex-MI6er Victoria (Helen Mirren), all of whom have officially retired from the espionage industry.

Read the Full Movie Review at Hollywood.com
Movie Review from TimeOut.com

Pension-age suburbanite Frank Moses (Bruce Willis) wakes up to a volley of fire from masked hitmen, and as he deals with them one by one, realises his retirement is going to take a violent detour. The title stands for 'retired, extremely dangerous', and this knockabout action comedy is a boisterous, getting-the-band-back-together movie as Frank assembles a crew of trigger-happy oldsters (John Malkovich, Morgan Freeman, Helen Mirren, Brian Cox) to uncover why his distinguished, black-ops past is coming back to haunt him. It's a charming mess, rescued by the knowing gusto of the acting.

Read the Full Movie Review at TimeOut.com
Movie Review from Movies.com

Based on the comic book of the same name, Red traverses a lot of familiar ground in the double-crossed assassin/one last job playbook. That's partially the point, as Red's setup, about retired and elderly ex-spies itching to get back in the game, is primed for a satirical take down of the genre. But while screenwriters John and Erich Hoeber and director Robert Schwentke squeeze laughs and introspective musings alike from the subject of aging and obsolescence, the film's breezy tone, thin characterizations, and PG-13 action make it clear that Red doesn't mean to be taken too seriously.

Read the Full Movie Review at Movies.com
Movie Review from Telegraph.co.uk

Forget Oliver Assayas' Carlos. For this week's most deluded attitude to violence, dip into Robert Schwentke's Red, a comedy-thriller starring Bruce Willis as Frank Moses, a former CIA black-ops assassin who is livening up a dreary retirement by chatting up Sarah (Mary-Louise Parker), a bored secretary at the other end of a phone line. Then a mysterious hit squad is sent to take out Frank, and he goes on the run, abducting Sarah for her own safety in the process.

Read the Full Movie Review at Telegraph.co.uk
---
'Red' Stars
Bruce Willis, Helen Mirren, John Malkovich, Karl Urban, Mary-Louise Parker, Morgan Freeman, Richard Dreyfuss, Robert Schwentke
---
'Red' Movie Links

Official Red Movie Website


Red on IMDb