---
Jonah Hex (2010)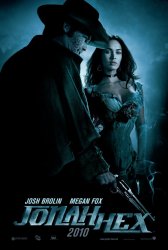 Starring: Megan Fox, Josh Brolin, Michael Shannon, Will Arnett, Michael Fassbender, John Malkovich, Julia Jones
Director: Jimmy Hayward
Release Date:

June 18th, 2010
Release Date:

3rd September, 2010
Synopsis: Jonah Hex is an ex confederate soldier/bounty hunter whos been shot so many times he has one foot in the living world and one in the other. He is hired to track down Quentin Turnbull with whom he has a troubled past.
Status:
About the Movie
Jonah Hex is an upcoming Western film based on the DC Comics character of the same name. Under Warner Bros., the film is directed by Jimmy Hayward and stars Josh Brolin as the title character, Jonah Hex, and also stars John Malkovich, Michael Fassbender and Megan Fox. The film is scheduled to be released on June 18, 2010.
---
Movie Reviews
Movie Review from EmpireOnline.com

There's no getting past it: Jonah Hex is a sorry, muddled mess. After years of development, the DC Comics character has arrived after changing hands between directors, writers and even a studio mandate to tone down what could have been something bloody, brutal and entertaining. The process has not been kind. Crank duo Neveldine and Taylor were originally tasked with bringing this to the screen, then, after a hurried search, the producers settled on Pixar veteran Jimmy Hayward.

Read the Full Movie Review at EmpireOnline.com
Movie Review from TotalFilm.com

Most modern comic-book adaps hover somewhere past the two-hour mark. Weird western Jonah Hex, on the other hand, reaches its merciful conclusion in a scant 81 minutes, credits included. That should be your first clue that all is not well. Secondly, it's based on a DC horror comic from the mid '70s that no one, save for 40-something shut-ins, remembers. Thirdly, the job of bringing the gruesome and hair-raising story of a disfigured, alcoholic bounty hunter cutting a bloody swath through the Old West to the screen has been placed in the hands of a Pixar animator whose previous helming gig was helming the bloodless Horton Hears A Who!

Read the Full Movie Review at TotalFilm.com
Movie Review from Hollywood.com

The first thing you notice about Jonah Hex is the fact that you can make a drinking game out of people saying the words "Jonah Hex." It happens so often, I began to believe that this was simply how people used to greet one another in the Old West. You walk into a room: "Jonah Hex!" "Well, Jonah Hex to you too, buddy!" Take a bottle of whiskey with you into the movie* and take a shot every time someone says his name and you will have an incredible 74 minutes. You might also be dead at the end.

Read the Full Movie Review at Hollywood.com
Movie Review from Movies.com

I feel sorry for everyone involved with Jonah Hex. Firstly there's the cast stuck in this silly period comic book movie — even the ones required only to play unsettling cartoon versions of themselves (Malkovich), talk miserably through speech-impeding prosthetics (Brolin), or shoot pistols while maintaining optimal period cleavage, in the grand tradition of feisty, old-timey, one-dimensional prostitutes (Megan Fox). Secondly, I feel for director Jimmy Hayward, whose sophomore directing turn will go down as the most chopped up, stitched together Frankenstein job in recent memory.

Read the Full Movie Review at Movies.com
---
'Jonah Hex' Stars
Jimmy Hayward, John Malkovich, Josh Brolin, Julia Jones, Megan Fox, Michael Fassbender, Michael Shannon, Will Arnett
---
'Jonah Hex' Movie Links

Official Jonah Hex Movie Website


Jonah Hex on IMDb