---
Despicable Me (2010)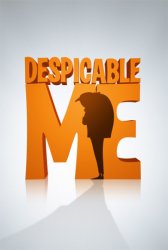 Starring: Jason Segel, Steve Carell, Kristen Wiig, Will Arnett, Miranda Cosgrove, Ken Jeong, Julie Andrews, Danny McBride, Russell Brand
Director: Pierre Coffin, Chris Renaud, Sergio Pablos
Release Date:

July 9th, 2010
Release Date:

15th October, 2010
Synopsis: In a happy suburban neighborhood surrounded by white picket fences with flowering rose bushes, sits a black house with a dead lawn. Surrounded by a small army of minions, we discover Gru, planning the biggest heist in the history of the world. He is going to steal the moon. Armed with his arsenal of shrink rays, freeze rays, and battle-ready vehicles for land and air, he vanquishes all who stand in his way. Until the day he encounters the immense will of three little orphaned girls who look at him and see something that no one else has ever seen: a potential Dad.
Status:
Despicable Me Movie Trailer
About the Movie
Despicable Me is an upcoming computer-animated 3-D feature film from Universal Pictures and Illumination Entertainment. The film stars Steve Carell.
The trailer of the film was released online on July 14, 2009, then with Harry Potter and the Half-Blood Prince on July 15, 2009. The second trailer was shown before A Christmas Carol. The third trailer was released online in December 11, 2009 but was not attached to a movie until Alvin and the Chipmunks: The Squeakquel and Alice in Wonderland were released. The newest trailer was shown on the web on March 25, 2010, and was shown on How to Train Your Dragon.
---
Movie Reviews
Movie Review from EmpireOnline.com

Gru (Steve Carell) rotagonist of this good-natured 3D CGI 'toon, is a master-villain out to steal the moon. Though slimmer and beakier, he's close to Grimly Feendish, a Brit comic great ("The Rottenist Crook In The World") created by Leo Baxendale in 1964. Like Grimly, he is bald, has a long black coat and stary eyes, rubs his hands in malevolent glee, is more ambitious than ept, relies on minions who let him down, and enjoys petty wickedness as much as grand Blofeldian schemes.

Read the Full Movie Review at EmpireOnline.com
Movie Review from TotalFilm.com

It helps to be super if you're a super-villain. But while he may have the underground HQ, the legion of minions and the nefarious schemes, Gru (Steve Carell) is a rather ordinary megalomaniac: a suburban grouch continually bested by his cocky rival Vector (Jason Segel) who can't even interest his mother (Dame Julie Andrews) in his diabolical plans. That might change if he succeeds in his latest plot, an outlandish attempt to make off with the Moon. To do so, he'll need to recover a stolen shrink gun his nemesis has pinched – something he will only manage with the aid of three orphaned kids whose Girl Scout cookies are all Vector will open his front door for.

Read the Full Movie Review at TotalFilm.com
Movie Review from Hollywood.com

Non-traditional heroes have become a staple of animated films in recent years, supplanting anthropomorphic rodents and zoo animals as the protagonists du jour. Pubescent Vikings, crotchety old men, lonely robots, and giant green ogres may not be much of a draw in the live-action realm, but in the animated world, they're freaking gold. You can add to those prestigious ranks Gru, the lead character in Despicable Me, a terrific 3D-animated flick directed by Pierre Coffin and Chris Renaud and based on a story by Sergio Pablos.

Read the Full Movie Review at Hollywood.com
Movie Review from TimeOut.com

Hollywood's cartoon villains have always been more fun than their heroic adversaries, so it's hardly surprising that two major animated movies this year have chosen to focus on the bad guys. But while forthcoming Will Ferrell/Brad Pitt vehicle 'Megamind' promises to be an all-out satirical assault on comic-book cliché, 'Despicable Me' is a cosy, old-fashioned affair, eschewing the current fashion for smug, 'Shrek'-style cynicism in favour of a cockle-warming redemption story.

Read the Full Movie Review at TimeOut.com
Movie Review from Movies.com

Despicable Me is no Pixar flick — but then, did you want to put the fear of death and loss into your kids' hearts again, so soon after last month's moving but slightly trauma-inducing Toy Story 3? Thanks to imaginative visual design and voice work, this sweet and sometimes macabre tale about a villain finding his inner nurturer will engage your senses and touch your soul. The lightweight plot, however, won't linger in your memory long after you leave the theater. But as a summer treat, Despicable Me provides fine enough family delights at the multiplex — especially for younger kids, who'll grasp towards the screen at the film's gimmicky, diverting 3D gags.

Read the Full Movie Review at Movies.com
Movie Review from Telegraph.co.uk

When an actor has just hit a career low — as I think Steve Carell did in the desperate Dinner for Schmucks — it's a relief to see them bounce back with a performance that clicks, in a hit film that really needs their services. In the gadget-fond super-villain 'toon Despicable Me, he plays a meanie so mean that he'll fashion balloon animals to console distraught children, only to pop them with a pin and walk off with maniacal satisfaction. What Carell brings to this cruel mastermind, actually the hero, is a mad Russian accent, lugubrious timing, and a general air of knowing exactly what he's doing — one not wholly shared by the movie around him.

Read the Full Movie Review at Telegraph.co.uk
---
'Despicable Me' Stars
Chris Renaud, Danny McBride, Jason Segel, Julie Andrews, Ken Jeong, Kristen Wiig, Miranda Cosgrove, Pierre Coffin, Russell Brand, Sergio Pablos, Steve Carell, Will Arnett
---
'Despicable Me' Movie Links

Official Despicable Me Movie Website


Despicable Me on IMDb