---
Wall Street: Money Never Sleeps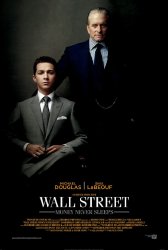 Starring: Carey Mulligan, Shia LaBeouf, Charlie Sheen, Michael Douglas, Susan Sarandon, Josh Brolin, Martin Sheen, Frank Langella
Director: Oliver Stone
Release Date:

September 24th, 2010
Release Date:

6th October, 2010
Synopsis: As the global economy teeters on the brink of disaster, a young Wall Street trader partners with disgraced former Wall Street corporate raider Gordon Gekko on a two-tiered mission: To alert the financial community to the coming doom, and to find out who was responsible for the death of the young trader's mentor.
Status:
Wall Street: Money Never Sleeps Movie Trailer
About the Movie
Wall Street: Money Never Sleeps is an upcoming American drama/thriller film directed by Oliver Stone. The film is a sequel to the 1987 Academy Award-winning film Wall Street, and the first sequel Stone has directed. Michael Douglas will reprise his role as Gordon Gekko in the film. The film will also star Shia LaBeouf, Josh Brolin, Carey Mulligan, Eli Wallach, Susan Sarandon, Vanessa Ferlito and Frank Langella in supporting roles.
Set in New York City, the film takes place 23 years after the original, revolving around the 2008 stock market crash. The film's plot mainly centers around Gekko acting as more of an antihero rather than a villain and follows his attempts to help Wall Street before its soon-to-be stock market crash as well as trying to repair his relationship with his daughter Winnie with the help of Jacob, Winnie's fiance. In return, Gekko helps Jacob get revenge on the man he blames for his mentor's death.
The film's story and screenplay are written by Bryan Burrough, Allan Loeb and Stephen Schiff, respectively. The film will be produced by Stone, Douglas, Edward R. Pressman, co-produced by Eric Kopeloff and executive produced by Alessandro Camen and Celia D. Costas. On September 9, 2009, the film began principal photography in Midtown, New York City, New York and is expected to continue filming for a few more months. Despite originally having a tentative February 2010, release date, it was reported that the film is currently set to be released theatrically on April 21, 2010, in Belgium and will be released in the United States and the United Kingdom two days later.
---
Movie Reviews
Movie Review from EmpireOnline.com

Michael Douglas' Gordon Gekko, introduced in Oliver Stone's Wall Street in 1987, is among the signature film characters of his decade: a financial Terminator, a boardroom Top Gun, Jason with a mobile phone the size of a brick. As with all the best villains, it's almost a shame he has to lose. Money Never Sleeps echoes another two decades-on sequel, The Color Of Money — from the teaming of a veteran leading man (there, Paul Newman reprising his role from The Hustler) with a young up-and-comer (there, Tom Cruise in his last apprentice role before he became huge), to a plot which gradually puts its beaten protagonist back together.

Read the Full Movie Review at EmpireOnline.com
Movie Review from TotalFilm.com

In Which Lie Did I Tell?, William Goldman remembers writing a great part for Michael Douglas in The Ghost And The Darkness: a fearless big-game hunter modeled on cowboy Shane and steeped in mystery. But Douglas wanted him to have a past – a history that would get the audience rooting for him. "He must have known it was horseshit," the scripter shrugs. "But he didn't feel he could play it as written, so changes were made." Total Film has no idea if similar pressure was exerted on Money Never Sleeps writers Allan Loeb and Stephen Schiff.

Read the Full Movie Review at TotalFilm.com
Movie Review from Hollywood.com

Much has changed in the world of finance since Oliver Stone first explored its grubby innards in 1987's Wall Street, a film that netted Michael Douglas a Best Actor Oscar for his iconic portrayal of scheming corporate raider Gordon Gekko. Technological advances, regulatory changes, a terrorist attack, a global economic meltdown, and the emergence of China as a dominant player have combined to transform the securities industry in the two-plus decades since Gekko, paraphrasing Ivan Boesky, first captured its more sinister aspects in those famous words, "Greed is good."

Read the Full Movie Review at Hollywood.com
Movie Review from Guardian.co.uk

Hollywood's legendary semi-recovering dosh addict is back; Oliver Stone has chosen this moment to revive the memory of pop culture's most famous banker. Gordon Gekko, that slick-haired, braces-wearing shark who went to jail back in 1987 for insider trading, is out and back in the Big Apple as the market suffers its biggest collapse ever. Gordon may not have the suits, and he may have to suffer the unspeakable indignity of using the New York subway, but he's as charming and manipulative as ever, with a new plan to spend colossal amounts of other people's money.

Read the Full Movie Review at Guardian.co.uk
Movie Review from TimeOut.com

Oliver Stone is back on the trading floor for this camper, fluffier spin on his 1987 film. It's a similar tale of real and surrogate fathers, of greed and charity, against the backdrop of the recent banking crises. Echoing Charlie Sheen's Bud Fox in the original, Jacob (Shia LaBeouf) is a smart young trader at a New York bank, where he has the mentorship of an old-school boss (Frank Langella) and is on the verge of ploughing cash into an eco-business.

Read the Full Movie Review at TimeOut.com
Movie Review from Movies.com

There are three movies happening here. One is the romance of Shia LaBeouf with cash, in which he cheats on cash with Carey Mulligan and her meaning-laden fetal ultrasound video. It's boring. The other movie is the one about how the world is going to hell because of terrible human beings running everything and stealing all the money, but ho-hum that's just how it is and maybe you should start stockpiling canned food for when the rioting starts.

Read the Full Movie Review at Movies.com
Movie Review from Telegraph.co.uk

It was hard to resist the urge to cry out "At last!" upon hearing that Oliver Stone had hooked up with Michael Douglas for a follow-up to his 1987 corporate classic about the 'Greed is good' ethos of modern-day Wall Street. After all, as has become clear in recent years, contemporary capitalism regards greed not just as good, but as a basic entitlement of those who stalk its corridors of power. How mouthwatering to imagine Stone gleefully kindling a cinematic bonfire of corporate vanities.

Read the Full Movie Review at Telegraph.co.uk
---
'Wall Street: Money Never Sleeps' Stars
Carey Mulligan, Charlie Sheen, Frank Langella, Josh Brolin, Martin Sheen, Michael Douglas, Oliver Stone, Shia LaBeouf, Susan Sarandon
---
'Wall Street: Money Never Sleeps' Movie Links

Official Wall Street: Money Never Sleeps Movie Website


Wall Street: Money Never Sleeps on IMDb