---
Frost/Nixon (2008)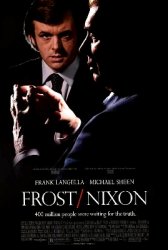 Starring: Frank Langella, Michael Sheen, Rebecca Hall, Toby Jones, Matthew Macfadyen, Kevin Bacon, Oliver Platt, Sam Rockwell
Director: Ron Howard
Release Date:

December 5th, 2008
Release Date:

23th January, 2009
Synopsis: For three years after being forced from office, Nixon remained silent. But in summer 1977, the steely, cunning former commander-in-chief agreed to sit for one all-inclusive interview to confront the questions of his time in office and the Watergate scandal that ended his presidency. Nixon surprised everyone in selecting Frost as his televised confessor, intending to easily outfox the breezy British showman and secure a place in the hearts and minds of Americans.
Status:
Frost/Nixon Movie Trailer
About the Movie
Frost/Nixon is an Academy Award-nominated 2008 historical drama film based on the eponymous play by Peter Morgan which dramatizes the Frost/Nixon interviews of 1977. The film version was directed by Ron Howard and produced by Brian Grazer of Imagine Entertainment and Tim Bevan and Eric Fellner of Working Title Films for Universal Studios.
The film reunites its original two stars from the West End and Broadway productions of the play, Michael Sheen as British television broadcaster David Frost and Frank Langella as former United States President Richard Nixon. Filming began on August 27, 2007. The film was first released at the London Film Festival on October 15, 2008, before expanding to a wider release in the U.S. on January 23, 2009. The movie was released to home video on April 21, 2009.
---
Movie Reviews
Movie Review by TonyD
Score – 4 out of 5
Out of the great underdog stories ever told – David and Goliath, Rocky and Apollo Creed, the Red Sox and the Yankees, the Average Joes and the Purple Cobras, Steve Wiebe and Billy Mitchell – there is one that is very seldom told – the story of David Frost and former president Richard Nixon.
Ron Howard's new film, "Frost/Nixon," is the frontrunner for Best Picture as it stands. There is no question about it. The film has everything that the audience wants. It has a great sense of humor without getting in the way of dramatic scenes. It has great performances by both the two headliners and the supporting cast. It's artsy without being too artsy. It has a hero that is worth rooting for. And it's one of the best films of the year.
"Frost/Nixon" begins with archive new clips of the burglaries that took place at the Watergate Hotel, where five men broke into the Democratic Party's office to steal secrets. After the five men are found to be somewhat part of Nixon's (Frank Langella) re-election campaign, two years later Nixon resigns from his presidency. David Frost, (Michael Sheen) a British television reporter who kept having his shows falling underneath him, decided that he would interview Nixon over the course of a few days and produce it independently.

Read the Full 'Frost/Nixon' Movie Review at FilmArcade.net
Movie Review by Marty Meltz
Quality – 9 out of 10
Tight, compact history in riveting, magnetic interactions.
For viewers who don't care about Richard Nixon? Yes. Fascinating.
"Frost/Nixon" is, plainly speaking, daring, innovative and mesmerizing. Daring, I say, because it's very much a talky movie. It dares to rely on powerful, conflicting personalities to generate screen voltage. For two hours.
Done? Absolutely. The two personalities involved were giants in the art and skill of conversational one-upmanship, the deft manipulators of every element of drama at hand. These guys were operators. And neither, as their interview production developed, was aware of the massive personal resources in material, timing and tactics of the other.
And the stakes? Staggering. For one it would make or destroy his career. For the other, it would doom him to shame. In the actual play-by-play gamesmanship as the tapes roll, each is aware, step-by-step, second-by-second, of what a misstep will cost. A facial twitch too quick, a pace-changer miscalculated, a response a half-second too soon or too late, and the ball is in the other's court.
Frank Langella as Nixon, and Michael Sheen as David Frost, are fine-tuned to a steel edge. Their charisma captivates and delightfully imprisons you.
As to split-second film edit timing, director Ron Howard is at the top of his game in this, rarely letting a critical conversation piece scene roll too long or too short.
Result: a brilliantly managed entertainment piece, politically illuminating and provocative.
This, based on Peter Morgan's play, is of the 1977 TV interview, and the massively complex preparations, between the disgraced and resigned President Richard Milhous Nixon (Frank Langella) and the scintillating, opportunistic British TV personality and talkshow host David Frost (Michael Sheen). Morgan has become quite the specialist in probing into major modern world figures, such as in his "The Queen," "The Deal" and "The Last King of Scotland."
The Nixon project, along with its check to the order of Nixon himself for $600,000, was supposed to give the ex-prez a shot at redeeming himself, following which he could move back East and rejoin the powerbrokers of old.
We see Frost, who was at the time hosting an Australian TV show, tossing in quite a bankroll of his own to keep the project going.
Michael Sheen's "David Frost" exudes his smart ladies-man demeanor, scoring with deftness, his breezy patter and quick wit disarming all, this in sharp contrast with Nixon, a brooding man of belabored spirit. But, in terms of ability in the jab and thrust of debate, a sleeping giant.
Frost, quick in banter and snappy in wordsmanship as he is, is also savvy enough to know that politics, especially in the hands of master manipulator "Tricky Dick," could get him into big trouble in the coming interview. Accordingly, he takes on two master strategists, veteran reporter Bob Zelnick (Oliver Platt) and big-time Nixon hater and street-smart journalist James Reston Jr.(Sam Rockwell). Reston sees the problem: Frost is so caught up with production details, he's going to miss the chance to run Nixon through, in a sense, the court trial that never happened.
Along the way, in a 747 first-class cabin, Frost picks up young socialite Caroline Cushing (Rebecca Hall) on his way to meet Nixon at his California home.
Indeed, as the interview opens, Nixon dominates, throwing Frost off balance with long tales, looking presidential. Backstage conversation between the two also keeps Frost on edge, with Nixon cannily pressing him on sexual antics. This is going badly for Frost. That is, until the final interview, which is reserved for the Watergate scandal that brought Nixon down. The pressure upon Nixon can be cruelly crushing. And Frost knows it.
This film is recent history grandly and profoundly treated.

Read More Movie Reviews at Marty at the Movies
---
'Frost/Nixon' Stars
Frank Langella, Kevin Bacon, Matthew Macfadyen, Michael Sheen, Oliver Platt, Rebecca Hall, Ron Howard, Sam Rockwell, Toby Jones
---
'Frost/Nixon' Movie Links

Official Frost/Nixon Movie Website


Frost/Nixon on IMDb