---
The Dilemma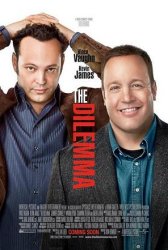 Starring: Vince Vaughn, Kevin James, Jennifer Connelly, Winona Ryder, Channing Tatum, Talulah Riley
Director: Ron Howard
Release Date:

January 14th, 2011
Release Date:

21st January, 2011
Synopsis: Since college, confirmed bachelor Ronny and happily married Nick have been through thick and thin. Now partners in an auto design firm, the two pals are vying to land a dream project that would launch their company. Ronny's girlfriend, and Nick's wife are by their sides. But Ronny's world is turned upside down when he inadvertently sees Geneva out with another man and makes it his mission to get answers. As the amateur investigation dissolves into mayhem, he learns that Nick has a few secrets of his own. Now, with the clock ticking and pressure mounting on the biggest presentation of their careers, Ronny must decide what will happen if he reveals the truth to his best friend.
Status:
The Dilemma Movie Trailer
About the Movie
The Dilemma is an upcoming comedy film written by Allan Loeb and directed by Ron Howard. The film is Howard's first comedy since 2000′s How the Grinch Stole Christmas. It stars Vince Vaughn, Kevin James, Jennifer Connelly, Winona Ryder, Channing Tatum, and Queen Latifah. The film will be produced by Howard and Brian Grazer of Imagine Entertainment, and will be distributed by Universal Pictures.
---
Movie Reviews
Movie Review from EmpireOnline.com

The titular conundrum – if you caught your best friend's wife cheating, should you tell them? – seems like a no-brainer: of course you would. A bigger dilemma was clearly how to sell this bittersweet comedy-drama, a return to territory which Oscar winner Howard hasn't explored since Parenthood. As with Steve Martin in that film, the presence of Vaughn and James suggests comedic intent, yet the laughs are chiefly present to leaven the more dramatic stuff – like Howard doing Mike Leigh.

Read the Full Movie Review at EmpireOnline.com
Movie Review from TotalFilm.com

Discounting the unintentionally hilarious The Da Vinci Code, Ron Howard hasn't made a comedy since 1999′s EDtv. He's back on the laughter trail with this tale of marriage, infidelity and friendship – but after a decade of dramas, it seems he's lost his sense of humour. Despite the presence of Vince Vaughn and Kevin James, two titans of mainstream US comedy, The Dilemma is a giggle-parched mish-mash that lacks the bite of such classic marital movies as The War Of The Roses.

Read the Full Movie Review at TotalFilm.com
Movie Review from Hollywood.com

Were The Dilemma made by someone other than Ron Howard, it might be easy to dismiss it as just another inert relationship comedy. But the presence of the Oscar-winning director's name atop the marquee begs further examination. Howard's artistic credentials may be a matter of some debate, but it's indisputable that he's got an impeccable eye for engaging, audience-friendly material, most recently demonstrated in his blockbuster adaptations of Dan Brown's pulp religio-thrillers The Da Vinci Code and Angels & Demons. What, then, drew him to something as acetic and unfunny as The Dilemma?

Read the Full Movie Review at Hollywood.com
Movie Review from Guardian.co.uk

A Ron Howard directed man-flick starring Vince Vaughn that doubles as an advert for the US car industry, and feels like a 108-minute riff on locker-room banter – would you tell your best mate if his missus was playing away? Vaughn, who is beginning to look like a waxwork of his former self – light sheen, mechanical grin, and imitation funny – is the co-owner of a company designing electric automobile engines with sexy-testosterone vroom.

Read the Full Movie Review at Guardian.co.uk
Movie Review from TimeOut.com

'The Dilemma' is a bit of a puzzler. It's a story about a man (Vince Vaughn) struggling with the suspicion that his best friend and business partner's (Kevin James) wife (Winona Ryder) is cheating on him, while he tries to keep his relationship with his own girlfriend (Jennifer Connelly) from imploding. It's basically a chick flick for guys – a picture about emotions, friendships, loyalty and growth in which the men are the prime movers – which is a pretty novel approach for a mainstream studio picture.

Read the Full Movie Review at TimeOut.com
Movie Review from Movies.com

I saw this film a few days ago and I'm still baffled by it. So I'm just going to tell you now that even more spoilers are coming up. Like I'm going to spoil the ending. Therefore, you should stop reading if you want it to be a big mystery like Ron Howard's last two DaVinci Code movies, but I have to work this out so I can get on with my life. See, Ryder's character drops the bomb about James getting weekly…um… "rubdowns" from a variety of low-rent masseuses, and that's the moment when you think the movie is going to get complicated and interesting.

Read the Full Movie Review at Movies.com
---
'The Dilemma' Stars
Channing Tatum, Jennifer Connelly, Kevin James, Ron Howard, Talulah Riley, Vince Vaughn, Winona Ryder
---
'The Dilemma' Movie Links

Official The Dilemma Movie Website


The Dilemma on IMDb