---
Four Christmases (2008)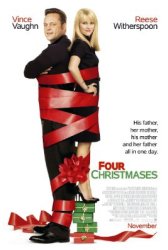 Starring: Vince Vaughn, Reese Witherspoon, Robert Duvall, Jon Favreau, Mary Steenburgen, Dwight Yoakam, Tim McGraw, Kristin Chenoweth, Jon Voight, Sissy Spacek
Director: Seth Gordon
Release Date:

November 26th, 2008
Release Date:

26th November, 2008
Synopsis: When upscale, happily unmarried San Francisco couple Kate and Brad find themselves socked in by fog on Christmas morning, their exotic vacation plans morph into the family-centric holiday they had, until now, gleefully avoided. Out of obligation they trudge to four relative-choked festivities, increasingly mortified to find childhood fears raised, adolescent wounds reopened and their very future together uncertain. As Brad counts the hours to when he can get away from their parents, step-parents, siblings and an assortment of nieces and nephews, Kate is starting to hear the ticking of a different kind of clock. And by the end of the day, she is beginning to wonder if their crazy families' choices are not so crazy after all.
Status:
Four Christmases Movie Trailer
About the Movie
Four Christmases (Four Holidays in Australia and New Zealand, Anywhere But Home in the Netherlands, Norway, United Arab Emirates and in South Africa) is a Christmas-themed romantic comedy film about a couple who go to see their divorced parents in one day. The film is produced by Spyglass Entertainment released by New Line Cinema on November 26, 2008, the day before Thanksgiving, and distributed by Warner Bros. Pictures. It stars Vince Vaughn and Academy Award winner Reese Witherspoon as a San Francisco, California, couple pressured into visiting all four of their divorced parents' homes on Christmas Day. Academy Award winner Sissy Spacek, Academy Award winner Mary Steenburgen, Kristin Chenoweth, Academy Award winner Jon Voight, Jon Favreau, and Academy Award winner Robert Duvall co-star with Tim McGraw. The film is director Seth Gordon's first studio feature film. The DVD and Blu-Ray was released on November 24, 2009.
---
Movie Reviews
Movie Review by Spaldy
A funny holiday movie is something that a lot of people strive for, but very rarely does one actually get made. I suppose it is only fitting that the star of one funny one, "A Christmas Story," has now produced another in "Four Christmases."
The story goes that two happy yuppies are content with the freedom of their three year relationship. Every Christmas the couple heads off on a tropical vacation in lieu of time with their fragmented families. Both the children of divorce, neither one want to repeat history, so instead they fiercely cling to their singledom rather than make a commitment to one another.

Read the Full 'Four Christmases' Movie Review at FilmArcade.net
Movie Review by Marty Meltz
Quality – 4 out of 10
Well, if Christmas is not a holiday for the family, then what is it? Pretty dismal, says "Four Christmases" and so is the movie, a futile effort at designing family dysfunction as a normal part of our complex society. It's saturated with slapped together, bumped-up inanities guaranteed to change cheers to jeers.
If comedy doesn't have a life of its own, it's not comedy. It's a silly stack of cards that can't rise from the first level, just asking to collapse. In particular, this movie is a struggling construction of unformed, allegedly funny concepts which turn Christmas spirit into a perversity.
Making matters worse is when its writers appear to be fascinated by artlessly dark humor. Vince Vaughn is thoroughly miscast and Reese Witherspoon must have had something else in mind when she accepted this role. Chemistry together? They don't share a single vibe or semblance of relating.
"Flight Cancelled, Flight Cancelled . . . " There's an unintended family confrontation coming up for unmarried — and plainly mismatched — upscale Kate and Brad of San Francisico. And it's due directly to the fogged-out jetliners on this Christmas morning. What a blow. They'd really had fabulous, exotic plans for a long-awaited vacation in Fiji. Oh, did they ever want and need this particular time away.
And now what's the alternative? Oh, no! Oh, no! Precisely, but precisely, the event that they'd put all their life's energy into avoiding. Trapped hopelessly! With no vacation as their excuse and now being seen on the TV news as woefully disappointed, all viewed by their families, uh oh, . . . they'll have to go join these rather eccentric relatives in holiday-infested festivities. This will include the four households of their divorced parents. Oh, the pain!
These obnoxious relatives will give us a sound understanding of why Kate and Brad have avoided marriage and kids like the plague. With both sets of parents having been divorced, there's your four families. They include Brad's ornery redneck dad (Robert Duvall), burly brothers who are cage wrestlers, visiting wealthy hippie mom (Sissy Spacek), and her boy friend who's one of Brad's old pals. Then there are Kate's mom (Mary Steenburgen), her dad (Jon Voight) and mom's other male interest, a Bible-thumpin' preacher man.
And now Brad and Kate get recruited into playing Joseph and Mary in the pageant.
Thing is, a real lot of family dirty wash is about to be hung out from their teenage years and Kate has just about had it.
Vince Vaughn is in over his head in a role the asks honesty of emotions and sincerity in motivation. This is a holiday misfire of the first magnitude It is overloaded with contrived relationships whose very substance is set up artificially for disaster.
A clear alternative to holiday joy, it's a Christmas gift to you that should stay unwrapped.

Read More Movie Reviews at Marty at the Movies
---
'Four Christmases' Stars
Dwight Yoakam, Jon Favreau, Jon Voight, Kristin Chenoweth, Mary Steenburgen, Reese Witherspoon, Robert Duvall, Seth Gordon, Sissy Spacek, Tim McGraw, Vince Vaughn
---
'Four Christmases' Movie Links

Official Four Christmases Movie Website


Four Christmases on IMDb