---
How Do You Know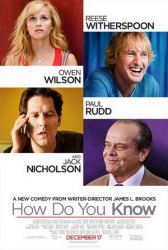 Starring: Reese Witherspoon, Paul Rudd, Owen Wilson, Jack Nicholson, Kathryn Hahn, Mark Linn-Baker
Director: James L. Brooks
Release Date:

December 17th, 2010
Release Date:

28th January, 2011
Synopsis: Feeling a bit past her prime at 27, former athlete Lisa Jorgenson finds herself in the middle of a love triangle, as a corporate guy in crisis competes with Lisa's current, baseball-playing beau.
Status:
How Do You Know Movie Trailer
About the Movie
How Do You Know is a 2010 romantic comedy film directed, written and produced by James L. Brooks. It stars Reese Witherspoon, Paul Rudd, Owen Wilson and Jack Nicholson. The film was shot in Philadelphia and Washington, D.C.. It was released on December 17, 2010. This marks the third film to feature Witherspoon and Rudd following 2009′s Monsters vs. Aliens and 1998′s Overnight Delivery.
---
Movie Reviews
Movie Review from EmpireOnline.com

It should be cause for celebration that James L. Brooks, now 70, has made another of his infrequent forays into features, pitching his pleasantly askew worldview, gently mannered tone and a cast of characteristically mild eccentrics into the rom-com ring, one lately dominated by potty-mouthed upstarts who, trawling the Judd Apatow/Todd Phillips backwash, think talking dirty is a substitute for funny. On this evidence, however, those celebrations may be somewhat muted.

Read the Full Movie Review at EmpireOnline.com
Movie Review from TotalFilm.com

There's a question mark missing from the title of James L. Brooks' navel-gazer, a film that explores how we know whether we are in love, trouble, denial, limbo… The rogue punctuation isn't the only thing AWOL from a project that, on paper, boasts all the right ingredients for comedy gold but has failed to cash in at the US box office. There's perky Reese Witherspoon playing Lisa, a perky pro-softball player who finds herself professionally directionless when she's dropped from the Olympic team.

Read the Full Movie Review at TotalFilm.com
Movie Review from Hollywood.com

How Do You Know, the latest dramedy from writer/director James L. Brooks (As Good As It Gets, Spanglish), pulsates with strangeness. Characters talk at each other, blathering on about their various problems, in conversations punctuated by uncomfortable pauses, shot at odd angles by cinematographer Janusz Kaminski (!) and set to a unnervingly sentimental score by Hans Zimmer (!). Jokes are set up and not delivered, or delivered without any set-up, making you wonder whether they were intended as jokes in the first place.

Read the Full Movie Review at Hollywood.com
Movie Review from Guardian.co.uk

In 1692, people suspected of witchcraft in Salem, Massachusetts, would have tons of heavy rocks piled on them. If they confessed, the rocks would be pushed off just before their rib-cages were crushed. One defiant holdout and martyr reportedly astonished his tormentors by merely gasping: "More … weight!" If he were being tortured today by Puritan interrogators they would tie him to the cinema seat and make him watch this new romcom by James L Brooks and this man would gasp: "More closeups of Paul Rudd … doing his endearingly vulnerable grin!"

Read the Full Movie Review at Guardian.co.uk
Movie Review from TimeOut.com

James L Brooks was working on 'The Simpsons' around the time of the 1993 episode 'Bart's Inner Child', in which Springfield falls prey to self-help svengali Brad Goodman. His condescending rhetoric ('You're not a human "being", you're a human "doing"!') satirised psychobabble. This new film from Brooks ('As Good as It Gets') sees a script constructed of the same doublespeak, only with its meanings taken seriously.

Read the Full Movie Review at TimeOut.com
Movie Review from Movies.com

This might be the talking-est movie of the year. While the sad majority of contemporary romantic comedies rely on episodic, doofus-friendly, lowest-common-denominator situations to keep you looking at the screen until the inevitable make-out scene at the end (Oh dang, Amy Adams just decided to climb that soaking wet, clovery hill and that roguish Ireland Guy is going to make her miss her train and–oops!–they just both fell in the mud with all the hogs!), this film puts you in rooms with its characters and lets them talk.

Read the Full Movie Review at Movies.com
---
'How Do You Know' Stars
Jack Nicholson, James L. Brooks, Kathryn Hahn, Mark Linn-Baker, Owen Wilson, Paul Rudd, Reese Witherspoon
---
'How Do You Know' Movie Links

Official How Do You Know Movie Website


How Do You Know on IMDb