---
Monsters vs. Aliens (2009)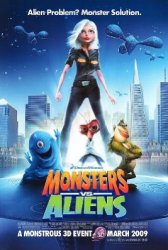 Starring: Seth Rogen, Paul Rudd, Hugh Laurie, Reese Witherspoon, Kiefer Sutherland, Rainn Wilson, Will Arnett
Director: Rob Letterman, Conrad Vernon
Release Date:

March 27th, 2009
Release Date:

3rd April, 2009
Synopsis: When a meteorite from outer space hits a young California girl named Susan Murphy and turns her into a giant monster, she is taken to a secret government compound where she meets a ragtag group of monsters also rounded up over the years. As a last resort, under the guidance of General W.R. Monger, on a desperate order from The President, the motley crew of Monsters is called into action to combat the aliens and save the world from imminent destruction!
Status:
Monsters vs. Aliens Movie Trailer
About the Movie
Monsters vs. Aliens is a 2009 American computer-animated 3-D feature film produced by DreamWorks Animation and distributed by Paramount Pictures. The computer-animated movie was the first to be directly produced in a stereoscopic 3-D format instead of being converted into 3-D after completion, which added $15 million to the film's budget.
The film was scheduled for a May 2009 release, but the release date was moved to March 27, 2009. It was released on DVD and Blu-Ray September 29, 2009 in North America. Monsters vs. Aliens features the voices of Reese Witherspoon, Seth Rogen, Hugh Laurie, Will Arnett, Conrad Vernon, Rainn Wilson, Kiefer Sutherland, Stephen Colbert, and Paul Rudd.
---
'Monsters vs. Aliens' Stars
Conrad Vernon, Hugh Laurie, Kiefer Sutherland, Paul Rudd, Rainn Wilson, Reese Witherspoon, Rob Letterman, Seth Rogen, Will Arnett
---
'Monsters vs. Aliens' Movie Links

Official Monsters vs. Aliens Movie Website


Monsters vs. Aliens on IMDb