---
Marmaduke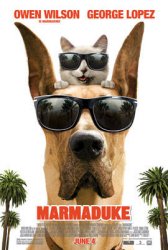 Starring: Judy Greer, Emma Stone, Christopher Mintz-Plasse, Kiefer Sutherland, Owen Wilson, Sam Elliott
Director: Tom Dey
Release Date:

June 4th, 2010
Release Date:

18th August, 2010
Synopsis: For Phil and Debbie Winslow, moving their family from Kansas to the O.C. is a big deal. For their enormous Great Dane "Marmaduke," however, the move means a whole new way of life. It's chaos at home and awkward at work as the Winslows struggle to control their angsty teenage canine.
Status:
About the Movie
Marmaduke is an upcoming 2010 live-action film based on the Brad Anderson comic strip Marmaduke. In this movie, the Winslows and their computer-generated dog move from Kansas to California.
---
Movie Reviews
Movie Review from EmpireOnline.com

When did Lee Pace and Judy Greer get old enough to play the parents of a teenager? Where did adapting a comic-strip about a comically destructive giant dog turn him into the canine version of an American high-schooler in an astonishingly derivative fish-out-of-water plot? What is William H. Macy doing? Why did no-one at the studio notice that this plot was entirely recycled from a string of forgettable family comedies and teen movies?

Read the Full Movie Review at EmpireOnline.com
Movie Review from TotalFilm.com

After Marley & Me, Owen Wilson finds himself back in the doghouse as the voice of a live-action Great Dane in this flat adap of a long-running newspaper comic strip.
Relocated from Kansas to Southern California, Marmaduke discovers the difficulty of fitting in among the various canine cliques, especially when he falls for an already attached pedigree collie (The Black Eyed Peas' Fergie).

Read the Full Movie Review at TotalFilm.com
Movie Review from TimeOut.com

The inexplicable popularity of the talking-animal genre has led to numerous crimes against cinema, especially since the advent of lip-sync CGI. But few have been as egregious as this adaptation of cosy comic strip 'Marmaduke', first sketched by Brad Anderson in 1954, which is a fair indication of how old the jokes are.
The screenwriters attempt to update the timeworn concept of a loveable great dane causing havoc for his all-American family by moving the entire enterprise to Orange County.

Read the Full Movie Review at TimeOut.com
Movie Review from Movies.com

Some people will complain that this movie betrays the loveable Marmaduke comic strip by scripting a scenario in which he goes through unpleasant d-baggy personality changes. But I say this is a good lesson for kids. Show the little ones that you should be nice to your friends even if the popular kids try to recruit you and turn you evil. Have some backbone. Besides, it's not like the movie's target audience has fond memories of a newspaper comic strip. They probably don't even know that newspapers were things people used to read.

Read the Full Movie Review at Movies.com
---
'Marmaduke' Stars
Christopher Mintz-Plasse, Emma Stone, Judy Greer, Kiefer Sutherland, Owen Wilson, Sam Elliott, Tom Dey
---
'Marmaduke' Movie Links

Marmaduke on IMDb