---
Easy A (2010)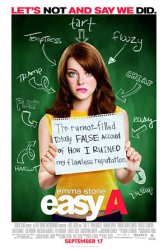 Starring: Emma Stone, Penn Badgley, Amanda Bynes, Dan Byrd, Thomas Haden Church, Patricia Clarkson
Director: Will Gluck
Release Date:

September 17th, 2010
Release Date:

29th October, 2010
Synopsis: After a little white lie about losing her virginity gets out, a clean cut high school girl sees her life paralleling Hester Prynne's in The Scarlet Letter, which she is currently studying in school - until she decides to use the rumor mill to advance her social and financial standing.
Status:
About the Movie
Easy A is an ensemble 2010 romantic comedy film written by Bert V. Royal and directed by Will Gluck. Partially inspired by the novel The Scarlet Letter, the film was shot at Screen Gems studios and in Ojai, California. Screen Gems distributes with an expected release on September 17, 2010.
---
Movie Reviews
Movie Review from EmpireOnline.com

Empire has a theory. In 1995, Amy Heckerling's Clueless was the first genuinely great teen comedy in years — smart and bouncy, it created a huge star in Alicia Silverstone. Four years later, in 1999, 10 Things I Hate About You did the same thing, taking literary inspiration — in this case Shakespeare, as opposed to Clueless' Jane Austen vibe — and turning it into a script with bona fide smarts and chuckles, while making its lead, Heath Ledger, hot stuff. Five years later, along came Tina Fey's Mean Girls, which sent Lindsay Lohan's star rocketing. Temporarily.

Read the Full Movie Review at EmpireOnline.com
Movie Review from TotalFilm.com

In Superbad she bucked the boysy vibe, making a small role something bigger. Then in Zombieland she refused to flinch under Woody Harrelson's redneck glare. As for The Rocker, The House Bunny and, uh, Marmaduke… clearly, the woman has paid her dues. And so to Emma Stone's first star vehicle, which she shoulders with charm, intelligence and a knowing glint in her eye. True, this high-school comedy is ultimately lightweight stuff, squaring up to potentially tricky subjects (peer pressure, promiscuity, religion) before softly backing down.

Read the Full Movie Review at TotalFilm.com
Movie Review from Hollywood.com

Easy A, a teen sex comedy with no actual sex, aims rather conspicuously to plumb the best bits of Diablo Cody and Alexander Payne in its upside-down, self-consciously campy take on Nathaniel Hawthorne's The Scarlet Letter. In the role of its high-school Hester Prynne is Emma Stone, the sly, husky heroine of last year's surprise hit Zombieland. Tested by a film that is far less clever than its director, Will Gluck, or screenwriter, Bert Royal, would have us believe (and they desperately want us to believe), she passes with flying colors, delivering a performance that should elevate her into the upper echelon of actresses possessing brains and beauty in equal measure.

Read the Full Movie Review at Hollywood.com
Movie Review from TimeOut.com

Every once in a while, a smart, female-focused teen movie comes along. The '90s had 'Clueless'; the noughties had 'Mean Girls'; each of them concerned with that age-old problem: popularity. Similarly, 'Easy A' features a girl caught somewhere between loser and in-crowd. Instead of trying to get a leg up, virgin Olive (Emma Stone) pretends she's got her leg over – mainly to shut up her inquisitive friend. Soon the details of Olive's fictional cherry-popping have spread all over the school… and then it escalates.

Read the Full Movie Review at TimeOut.com
Movie Review from Movies.com

Juno just about hit it right on the teen movie aspiration scale. And that's because it didn't lose focus, paint its characters into corners or make everyone so obnoxious you couldn't still love them, not even too-cool Juno herself. This one does; its satire gets confused, most of its teen types aren't sharp enough to stick, and it lacks the emotional kick of even second-tier teen movies that came before (most notably Can't Buy Me Love, which is explicitly referenced here). That doesn't make it horrible, just average.

Read the Full Movie Review at Movies.com
Movie Review from Telegraph.co.uk

Easy A, a modern-day and mildly raunched-up version of Nathaniel Hawthorne's novel The Scarlet Letter (1840), is a high-school comedy that comes on both sassy and cute, dispenses snappy one-liners with abandon, and will likely be embraced by adults who can still recall the pains of being pure at heart. It's not hard to work out which films director Will Gluck and screenwriter Bert V. Royal have been watching recently, and while it's not quite as memorable as Clueless (1995) or 10 Things I Hate About You (1999), it's a merry affair — smart, sometimes surprising, and delightfully performed.

Read the Full Movie Review at Telegraph.co.uk
---
'Easy A' Stars
Amanda Bynes, Dan Byrd, Emma Stone, Patricia Clarkson, Penn Badgley, Thomas Haden Church, Will Gluck
---
'Easy A' Movie Links

Official Easy A Movie Website


Easy A on IMDb