---
Role Models (2008)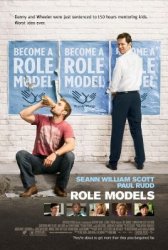 Starring: Seann William Scott, Paul Rudd, Christopher Mintz-Plasse, Jane Lynch, Bobb'e J.Thompson, Elizabeth Banks
Director: David Wain
Release Date:

November 7th, 2008
Release Date:

9th January, 2009
Synopsis: Paul Rudd and Seann William Scott star as Danny and Wheeler, two salesmen who trash a company truck on an energy drink-fueled bender. Upon their arrest, the court gives them a choice: do hard time or spend 150 service hours with a mentorship program. After one day with the kids, however, jail doesn't look half bad.
Status:
Role Models Movie Trailer
About the Movie
Role Models is a 2008 American comedy film directed by David Wain about two energy drink salesmen who are ordered to perform 150 hours of community service as punishment for various offenses. For their service, the two men work at a program designed to pair kids with adult role models. The film stars Paul Rudd, Seann William Scott, Christopher Mintz-Plasse, Bobb'e J. Thompson, and Elizabeth Banks.
---
Movie Reviews
Movie Review by Kelsey Zukowski
Score – Grade: B
Role Models follows a simple story that ends up being more entertaining than I expected. In many moments, the writing and obscure situations are very funny. The film's cast really hit the comedy timing right, enhancing the enjoyment to be had through the movie. However, some storylines and characters are more entertaining to others. Some of the jokes get old fast when we still have another hour and a half of their run. Still, there is enough that does work to make Role Models a fun film.
Danny (Rudd) and Wheeler (Scott) work as energy drink salesman who go from school to school promoting their drinks in place of involvement of drugs. When Wheeler and some of his workers throw Danny a party for his 10 years working for the company things take a bad turn. This just depresses Danny since he hates his job and wishes he wasn't still stuck working there.

Read the Full 'Role Models' Movie Review at FilmArcade.net
Movie Review by Marty Meltz
Quality – 7 out of 10
A fairly funny comedy considering its overload of foul-mouthed gaglines, this has a suprisingly high laughs level which blind-sides you with comic capers when you hardly expect them.
"Role Models," one is reluctant to admit, gets a lot of mirth out of inventive locker room humor that has a way of making you laugh even though you don't know why. The ongoing theme is that boys of any age just never grow up and it turns out, in this plot, to be the kids, not the grown-up guys, who get the most laughs.
The film has an amazing flow of serviceable chuckles based on caricatures who, although fitted into a very formula flick, maintain a peppery consistency all the way through. Generally, in fact, the movie strides with such lively energy, with never an unattended moment of comedy, that one must admit that profane dialogue can actually find a place, if force-fitted, in our complex society.
Misanthropic Danny (Paul Rudd) and doofus buddy Wheeler (Sean William Scott) try to get kids off drugs by selling energy drinks to school systems as they drive their delivery route in a novelty monster truck. But while on their own energy drink binge, Danny, stressed out over family problems and, having been rejected by longtime girlfriend Beth (Elizabeth Banks) because he's so morose, goes nuts and gets both himself and Wheeler in legal trouble. Beth, a lawyer, deals with the court to get them off if they'll put in 150 hours with "Sturdy Wings," a big brother kind of public service outfit for troubled kids. It's run by Gayle Sweeney (Jane Lynch). who's pretty much an off-balance neurotic who mixes discipline with explosive spunk.
So here's Wheeler, a sex-obsessed party animal by nature whose only thoughts are toward rolling in the hay, assigned to a filthy-mouthed, hard-tempered pre-teen, Ronnie, who loses no time in jerking Wheeler around into a situation in which he can have him arrested as a pedophile. That resolved, it's clear that Ronnie needs a father figure. All Ronnie does now is wave wooden swords with his other geek pals. Danny's also got his special problem boy to guide, Augie, who has no idea what growing up is about. So what we've got here is two immature misfits on a project to guide younger misfits.
As to character development, if you care about that at all, one notices that this happens only up to the point where the two guys get into the Sturdy Wings settings. After that, the kids take over the screen, Danny and Wheeler being relegated to backboards to bounce off. The really rudimentary situations and plot are turned, by the kids, into generators of lots of laughs.
The ending, suggesting that they're all humans who really want to relate to each other, is obligatory, but OK.

Read More Movie Reviews at Marty at the Movies
---
'Role Models' Stars
Bobb'e J.Thompson, Christopher Mintz-Plasse, David Wain, Elizabeth Banks, Jane Lynch, Paul Rudd, Seann William Scott
---
'Role Models' Movie Links

Role Models on IMDb