---
Angels & Demons (2009)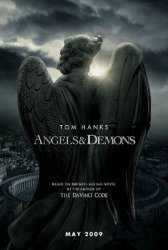 Starring: Tom Hanks, Ayelet Zurer, Ewan McGregor, Stellan Skarsgård, David Pasquesi, Victor Alfieri, Cosimo Fusco, Allen Dula
Director: Ron Howard
Release Date:

May 15th, 2009
Release Date:

14th May, 2009
Synopsis: When a murder of a physicist, Leonardo Vetra, finds a symbolist, Robert Langdon, and Mr. Vetra's daughter, Vittoria, on an adventure for a secret brotherhood, The Illuminati. Clues lead them all around the Vatican, including the four alters of science, Earth, Air, Fire and Water. An Assassin working for the Illuminati, have captured four cardinals, and murders each, painfully. Robert and Vittoria also are searching for a new very destructive weapon that could kill millions.
Status:
Angels & Demons Movie Trailer
Angels & Demons Teaser Trailer
About the Movie
Angels & Demons is a 2009 film adaptation of Dan Brown's novel of the same name, released on May 15, 2009. It is the sequel to The Da Vinci Code (2006), another Brown film adaptation, although the novel Angels & Demons was published and takes place before the novel The Da Vinci Code. Filming took place in Rome and the Sony Pictures Studios in Los Angeles. Tom Hanks reprises the lead role of Robert Langdon, while director Ron Howard, producer Brian Grazer and screenwriter Akiva Goldsman also returned.
---
'Angels & Demons' Stars
Allen Dula, Ayelet Zurer, Cosimo Fusco, David Pasquesi, Ewan McGregor, Ron Howard, Stellan Skarsgård, Tom Hanks, Victor Alfieri
---
'Angels & Demons' Movie Links

Official Angels & Demons Movie Website


Angels & Demons on IMDb