---
Grown Ups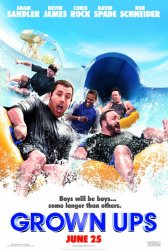 Starring: Adam Sandler, Kevin James, Chris Rock, David Spade, Rob Schneider, Salma Hayek, Steve Buscemi
Director: Dennis Dugan
Release Date:

June 25th, 2010
Release Date:

27th August, 2010
Synopsis: Five friends and former teammates reunite years later to honor the passing of their childhood basketball coach. With their wives and kids in tow, they spend the Fourth of July holiday weekend together at the lake house where they celebrated their championship years earlier. Picking up where they left off, they discover why growing older doesn't mean growing up.
Status:
About the Movie
Grown Ups is an upcoming 2010 American comedy film starring Adam Sandler, Kevin James, Chris Rock, David Spade and Rob Schneider. James, Rock, Schneider, and Spade have all worked with Sandler on films before, though this is the first film with all five. Sandler and Fred Wolf wrote the script and Dennis Dugan is directing. The film is produced by Sandler's production company Happy Madison and will be distributed by Columbia Pictures. Filming commenced in Southborough, Massachusetts on May 18, 2009, but most of the filming was done at Chebacco Lake in Essex, Massachusetts. It is set to be released on June 25, 2010.
---
Movie Reviews
Movie Review from EmpireOnline.com

The comedy version of The Expendables, Grown Ups scoops up every inexplicably popular middle-aged US funnyman possible and drops them in an isolated lake house, to excruciating effect. Gasp as Rob Schneider repeatedly makes out with an ugly old woman! Boo as Chris Rock repeatedly gets pussywhipped! Cheer as Kevin James repeatedly urinates in public swimming areas! The blame for this parched desert of laughter lies at the expensive sneakers of Adam Sandler, who's clearly learned nothing from Funny People. It's smug twaddle with the laziest script of the summer (one 'set-piece' consists of James rope-swinging into a tree… that's it), so naturally it's already made $240 million worldwide.

Read the Full Movie Review at EmpireOnline.com
Movie Review from TotalFilm.com

A grade-school basketball team reunites after 30 years for their coach's funeral.
After the ceremony, they spend a weekend at a lake house with their extended families to reminisce about the old days, grouse over their tech-obsessed kids and sex-depriving wives, and maybe learn a few mid-life lessons along the way.
It's an inoffensive, tried and tested premise lent fresh potential by the casting of five well-versed comic contemporaries: Adam Sandler, Chris Rock, David Spade, Rob Schneider and Hollywood's reigning stooge Kevin James.

Read the Full Movie Review at TotalFilm.com
Movie Review from Hollywood.com

Adam Sandler needs to make new friends. The funnyman/mogul has often used comedies produced under his Happy Madison banner to dole out roles to his less talented ex-SNL chums, many of whom would be forced to find other occupations if it weren't for his patronage. But such loyalty, while certainly laudable, comes at a price. In the case of Grown Ups, the price is far too steep.
A broad comedy that tests the limits of its PG-13 rating, Grown Ups is set during a Fourth of July holiday in which five former best friends gather at a lake house to commemorate the passing of their beloved grade-school basketball coach. Much has changed for the boys, all of whom are now in their 40s, in the nearly three decades since their fabled championship season. During one wacky weekend in the woods, their divergent fates are laid painfully bare.

Read the Full Movie Review at Hollywood.com
Movie Review from Guardian.co.uk

If root canal surgery feels too childish a torment, may we direct your attention to this ghastly celebrity roast in the guise of a boisterous family comedy. Adam Sandler leads a cast of mid-life boors (Chris Rock, David Spade and Rob Schneider among them) to a lakeside retreat for the funeral of their beloved high school coach. There they proceed to ride water-slides in slo-mo, laugh themselves stupid and pull disgusted faces at a sixtysomething woman on the basis that she is still sexually active and therefore so much more repulsive than the teenage hottie who fixes her car with her rear in the air.

Read the Full Movie Review at Guardian.co.uk
Movie Review from Movies.com

Clearly, Adam Sandler wanted an excuse to hang out with his friends for the summer. At least they got something out of it; the audience, on the other hand, will be left wondering where all the funny went in the years since Sandler and Co. (minus James) earned their stripes as the young stars of '90s-era Saturday Night Live. The biggest problem isn't that the story wastes talented ladies like Rudolph, Bello, and Hayek Pinault (who can be funny when she wants to be, and is credited by her new married name), or that it forces a faux-sentimental ending that doesn't feel authentic.

Read the Full Movie Review at Movies.com
Movie Review from Telegraph.co.uk

Adam Sandler. Chris Rock. Kevin James. David Spade. Rob Schneider. They've all been individually responsible for some indictable crimes against comedy.
The collective assault in Grown Ups, which sends this whole gang on a rural-getaway reunion over the Fourth of July weekend, is like being sat on by all your least favourite school bullies – it would make a great double bill with Couples Retreat. Maria Bello gets the shortest of short straws in having to play James's wife, the poor thing, and Salma Hayek is incapable of saying the line "I am NOT some insensitive work-crazy dragon lady!" without being accidentally hilarious.

Read the Full Movie Review at Telegraph.co.uk
---
'Grown Ups' Stars
Adam Sandler, Chris Rock, David Spade, Dennis Dugan, Kevin James, Rob Schneider, Salma Hayek, Steve Buscemi
---
'Grown Ups' Movie Links

Official Grown Ups Movie Website


Grown Ups on IMDb