---
New York, I Love You (2009)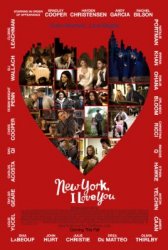 Starring: Bradley Cooper, Shia LaBeouf, Natalie Portman, Blake Lively, Orlando Bloom, Christina Ricci, Robin Wright Penn, Hayden Christensen
Director: Fatih Akin, Yvan Attal, Allen Hughes, Shunji Iwai, Wen Jiang, Shekhar Kapur, Joshua Marston, Mira Nair, Natalie Portman, Brett Ratner, Randall Balsmeyer
Release Date:

October 16th, 2009
Release Date:

8th October, 2010
Synopsis: In the city that never sleeps, love is always on the mind. Those passions come to life in New York, I Love You – a collaboration of storytelling from some of today's most imaginative filmmakers and featuring an all-star cast. Together they create a kaleidoscope of the spontaneous, surprising, electrifying human connections that pump the city's heartbeat. Sexy, funny, haunting and revealing encounters unfold beneath the Manhattan skyline. From Tribeca to Central Park to Brooklyn, the story weaves a tale of love as diverse as the very fabric of New York itself.
Status:
New York, I Love You Movie Trailer
About the Movie
New York, I Love You is a 2009 romance film which will release in the United States on October 16, 2009. From the producer of Paris, je t'aime, it stars an ensemble cast, among them Shia LaBeouf, Natalie Portman, Hayden Christensen, Blake Lively, Orlando Bloom, Chris Cooper, Andy Garcia, Christina Ricci, Robin Wright Penn, Julie Christie and Ethan Hawke. The film premiered at the 2008 Toronto International Film Festival in September 2008.
---
Movie Reviews
Movie Review from EmpireOnline.com

By their very nature, anthology films can be hit and miss — this one being no exception — and can suffer from the lack of a linear plot. This follow-up to 2006's Paris, Je T'Aime — with Shanghai, I Love You, Jerusalem, I Love You and Rio, Eu Te Amo planned — benefits from its host city's incomparable magnetism as we navigate vignettes from the quirky, to the sad, to the touching, to the sassy, in the company of a truly stellar cast. More successful are the cheekier segments, the lighter touch a lovely fit with the bewitching sense of possibility that throbs throughout the city.

Read the Full Movie Review at EmpireOnline.com
Movie Review from TotalFilm.com

Having wheeled out the big (directorial) guns for Paris, Je T'Aime, producer Emmanuel Benbihy calls on the B-team for this New York-based continuation of his 'Cities Of Love' franchise. Indeed, the only significant hold-over from that 2006 effort is Natalie Portman, here contributing both behind and in front of the camera to a compilation of shorts united only by location and theme. The reasoning behind the portmanteau film – if you don't like the piece you're watching there'll be another one along shortly – is perfectly sound.

Read the Full Movie Review at TotalFilm.com
Movie Review from Movies.com

There's this place called New York City. Perhaps you've heard about it. There really aren't a lot of movies made there so it kind of needs all the media attention it can get. It's a city full of fascinating people in all kinds of interesting love situations. Those people are white. Sometimes they're also Indian, because Hindu stuff is so colorful and great for set decoration. Occasionally these people are other Asians who aren't Indian. But they are never African-American or Puerto Rican. Or not heterosexual.

Read the Full Movie Review at Movies.com
---
'New York, I Love You' Stars
Allen Hughes, Blake Lively, Bradley Cooper, Brett Ratner, Christina Ricci, Fatih Akin, Hayden Christensen, Joshua Marston, Mira Nair, Natalie Portman, Orlando Bloom, Randall Balsmeyer, Robin Wright Penn, Shekhar Kapur, Shia LaBeouf, Shunji Iwai, Wen Jiang, Yvan Attal
---
'New York, I Love You' Movie Links

Official New York, I Love You Movie Website


New York, I Love You on IMDb