---
Invictus (2009)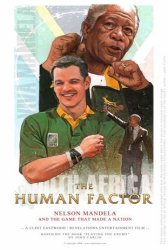 Starring: Matt Damon, Morgan Freeman, Scott Eastwood, Langley Kirkwood, Robert Hobbs, Tony Kgoroge, Bonnie Henna
Director: Clint Eastwood
Release Date:

December 11th, 2009
Release Date:

5th February, 2010
Synopsis: A look at Nelson Mandela from the fall of apartheid. The story is about Mandela's release from prison, his election as President of South Africa and his attempts to use the 1995 Rugby World Cup as a vehicle to bring his people together, after the fall of apartheid. Newly elected President Mandela knows his nation remains racially and economically divided in the wake of apartheid. Believing he can bring his people together through the universal language of sport, Mandela rallies South Africa's rugby team as they make their historic run to the 1995 Rugby World Cup Championship match. Led by their captain Francois Pienaar, the South African team wins the tournament, upsetting the favourites New Zealand 15–12 in the final.
Status:
About the Movie
Invictus (also known as The Human Factor) is an upcoming 2009 feature film based on Nelson Mandela's life during the 1995 Rugby World Cup in South Africa. Directed by Clint Eastwood, the film stars Morgan Freeman as the then South African President Mandela, and Matt Damon as Francois Pienaar, the South African team captain. The story is based on the John Carlin book Playing the Enemy: Nelson Mandela and the Game That Changed a Nation. The film is due for release on December 11, 2009, and is considered a "front-runner" for several Academy Awards.
---
Movie Reviews
Movie Review from EmpireOnline.com

On May 30, Clint Eastwood will be 80 years old. Not that it's stopping him. Compared to the tortoise-gallop of a stripling like Ridley Scott, he's going gangbusters on a creative run that averages two films a year, four Oscar nominations a ceremony and $143 million per film in worldwide box office. Only Pixar, Alex Ferguson and Marks & Spencer desserts can match such doggone consistency. And it's not like he's sticking to safe ground; throughout the big man's magnificent autumnal years, he's cartwheeled between themes and genres, willing, it seems, to try anything. Now comes the impressively improbable combo of Nelson Mandela's testy first years fixing South Africa and the posh-boy mania of rugby union's World Cup.

Read the Full Movie Review at EmpireOnline.com
Movie Review from TotalFilm.com

Having played God (twice), was there any more exalted role for Morgan Freeman to take on?
Perhaps only one – that of the most admired and respected (or should that be the only admired and respected?) statesman of our time. And no question – his Nelson Mandela is a towering achievement in a career that's hardly lacked them.
Though Freeman's voice is deeper than Mandela's, he catches the former President's cadences exactly: that slightly halting rhythm that made you feel Mandela – unlike most politicos – was actually thinking about what he was saying. It's less an imitation than an incarnation: the warmth, the unpretentious directness, the sense of purpose, the manipulative charm (especially with women), even the hints of mischief are all there. Ten minutes in, you forget you're watching an actor.

Read the Full Movie Review at TotalFilm.com
Movie Review from Hollywood.com

Clint Eastwood's annual Oscar pitch has become something of a holiday tradition which, depending on one's tastes, is anticipated with either delight or dread. But Clint's latest directorial effort, Invictus, is clearly fashioned more as a crowd-pleaser than a critical darling. It's true shape and intent is, in fact, akin to that of a traditional underdog sports flick, albeit one in which the charismatic coach who stirs a rag-tag team to victory just happens to be a Nobel Peace Prize winner.

Read the Full Movie Review at Hollywood.com
Movie Review from Guardian.co.uk

"We need inspiration," declares Morgan Freeman as Nelson Mandela in the midst of Clint Eastwood's ceremonial tale of the 1995 rugby World Cup in post-apartheid South Africa. Mandela is ostensibly talking about the country as a whole, though he may as well be exhorting Invictus itself – a monolithic sporting saga that seems content to pose on the podium, lulled by the belief that its subject matter provides inspiration enough. At times it feels as though Eastwood has elected to skip the contest and proceed straight to the trophy presentation.

Read the Full Movie Review at Guardian.co.uk
Movie Review from TimeOut.com

He turns 80 this year and claims 'Gran Torino' was his last outing as an actor. But, as a director, Clint Eastwood is keeping his nose to the grindstone. He spent the end of 2009 filming a Peter Morgan-penned thriller, 'Hereafter', in Europe and the US, and earlier last year decamped to South Africa to film this respectful, rousing drama about Nelson Mandela's canny co-opting of the 1995 Rubgy World Cup Finals as a tool to promote racial harmony across the social and political tinderbox that was the new, post-apartheid state.

Read the Full Movie Review at TimeOut.com
---
'Invictus' Stars
Bonnie Henna, Clint Eastwood, Langley Kirkwood, Matt Damon, Morgan Freeman, Robert Hobbs, Scott Eastwood, Tony Kgoroge
---
'Invictus' Movie Links

Official Invictus Movie Website


Invictus on IMDb