---
Gran Torino (2008)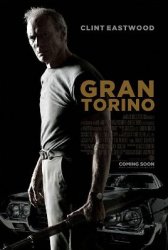 Starring: Clint Eastwood, Cory Hardrict, John Carroll Lynch, Geraldine Hughes, Brian Haley
Director: Clint Eastwood
Release Date:

January 9th, 2009
Release Date:

27th February, 2009
Synopsis: Walt Kowalski is a widower who holds onto his prejudices despite the changes in his Michigan neighborhood and the world around him. Kowalski is a grumpy, tough-minded, unhappy an old man, who can't get along with either his kids or his neighbors, a Korean War veteran whose prize possession is a 1972 Gran Torino he keeps in mint condition. When his neighbor Thao, a young Hmong teenager under pressure from his gang member cousin, tries to steal his Gran Torino, Kowalski sets out to reform the youth. Drawn against his will into the life of Thao's family, Kowalski is soon taking steps to protect them from the gangs that infest their neighborhood.
Status:
Gran Torino Movie Trailer
About the Movie
Gran Torino is a 2008 Golden Globe-nominated American drama film directed and produced by Clint Eastwood, who also stars in the film. The film marks Eastwood's return to a lead acting role after four years, his last leading role having been in Million Dollar Baby. The film features a predominantly Hmong cast, as well as Eastwood's younger son, Scott Eastwood. Eastwood's older son, Kyle Eastwood, provided the score. The film opened to theaters in a limited release in North America on December 12, 2008, and later to a worldwide release on January 9, 2009.
The story follows Walt Kowalski, a recently widowed Korean War veteran with an arrogant family who is never close to him. On a dare by his cousin for initiation into a gang, Thao, Walt's young neighbor, is caught attempting to steal his prized 1972 Ford Gran Torino. Kowalski develops a relationship with the boy and his family. Gran Torino was a critical success, and became Eastwood's most lucrative film by grossing over $263 million worldwide.
---
'Gran Torino' Stars
Brian Haley, Clint Eastwood, Cory Hardrict, Geraldine Hughes, John Carroll Lynch
---
'Gran Torino' Movie Links

Official Gran Torino Movie Website


Gran Torino on IMDb