---
Hereafter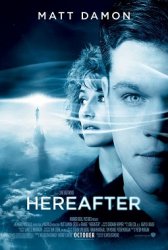 Starring: Matt Damon, Bryce Dallas Howard, Cécile De France, Jenifer Lewis, Derek Jacobi, Jay Mohr
Director: Clint Eastwood
Release Date:

October 22nd, 2010
Release Date:

28th January, 2011
Synopsis: A drama centered on three people who are haunted by mortality in different ways. George is a blue-collar American who has a special connection to the afterlife. On the other side of the world, Marie, a French journalist, has a near-death experience that shakes her reality. And when Marcus, a London schoolboy, loses the person closest to him, he desperately needs answers. Each on a path in search of the truth, their lives will intersect, forever changed by what they believe might-or must-exist in the hereafter.
Status:
About the Movie
Hereafter is a 2010 American drama film directed by Clint Eastwood from a screenplay by Peter Morgan. The film tells three parallel stories about three people affected by death in different ways; Matt Damon plays American factory worker George, who is somehow able to communicate with the dead; Cécile de France plays French television journalist Marie, who survives a tsunami; and Frankie and George McLaren play Marcus and Jason, an English boy and his brother who is killed in a car accident. At the denouement, all three stories and characters converge. Bryce Dallas Howard, Lyndsey Marshal, Jay Mohr and Thierry Neuvic have supporting roles.
Morgan sold the script on spec to DreamWorks in 2008, but it transferred to Warner Bros. by the time Eastwood had signed on to direct in 2009. Principal photography ran from October 2009 to February 2010 on locations in London, San Francisco, Paris, and Hawaii.
Hereafter premiered as a "Special Presentation" at the 2010 Toronto International Film Festival in September 2010. The film will be released nationwide in North America on October 22, 2010.
---
Movie Reviews
Movie Review from EmpireOnline.com

It's interesting that, at 81 years old, Clint Eastwood should for the first time choose to tackle the supernatural and the question of what happens after we die. And the fact that the script that hooked him was written by Peter Morgan — such an astute dramatiser of major true-life political events and figures (in The Queen and Frost/Nixon especially) — should be an exciting prospect. Yet both factors only compound disappointment when it becomes apparent that Hereafter is a sagging failure.

Read the Full Movie Review at EmpireOnline.com
Movie Review from TotalFilm.com

The good news? Eighty years young, Clint Eastwood is still very much in the game, prepping an awards-bait, Leo DiCaprio-starring biopic of J. Edgar Hoover for 2012. The bad news? In the meantime, we have this effort. Hereafter follows the separate stories of three strangers in three different cities. In Paris, a near-death experience prompts TV journalist Marie (Cécile De France) to begin researching a book on the afterlife. In San Francisco, Matt Damon plays reluctant psychic George.

Read the Full Movie Review at TotalFilm.com
Movie Review from Hollywood.com

Making an earnest cinematic argument for the immortality of the soul and the existence of an afterlife without delving into mushy sentimentality is a difficult task for even the most gifted and "serious" of filmmakers. Oscar-winning director Peter Jackson discovered as much last year when his sappy, grandiose adaptation of the ethereal bestseller The Lovely Bones opened to scathing reviews. Critics, by and large, tend to bristle at movie renderings of what may or may not await them in that Great Arthouse in the Sky.

Read the Full Movie Review at Hollywood.com
Movie Review from Guardian.co.uk

Clint Eastwood fans may, from now on, wish to put their hands over their ears and loudly sing "lalalala" when anyone mentions this film. It is a bizarre and baffling turkey, one of the most purely puzzling features to be released this year so far. How can so much mighty talent – Eastwood directs a script by Peter Morgan, and Steven Spielberg co-produces – can have produced something so embarrassingly awful? It is set in the US, France and Britain; three sets of people encounter the concept of the hereafter.

Read the Full Movie Review at Guardian.co.uk
Movie Review from TimeOut.com

A globetrotting, partially subtitled dramatic meditation on the great beyond isn't exactly typical Eastwood material, so give him a nod for ambition. As for accomplishment… a definite 'hmm'. Certainly, the movie peaks early as a CGI-assisted tsunami hits the Thai coastline, where French TV presenter Cécile de France has a brush with mortality so close she glimpses the other side. She's not alone, as her ongoing fortunes complement those of a disgruntled San Francisco psychic Matt Damon, whose gift has become a burden, and a London schoolboy (George McLaren) coping with the loss of a sibling.

Read the Full Movie Review at TimeOut.com
Movie Review from Movies.com

In Gran Torino, Clint Eastwood directed himself in a story about a violent death sacrifice, so the logical next step is to explore the nature of what would happen to Clint Eastwood if he were to suddenly up and die like people often do. And that's where it becomes more difficult. Because he's great at studying the nature of violence and retribution and masculinity and honor. Those are all things you can actually look at it and see in action.

Read the Full Movie Review at Movies.com
---
'Hereafter' Stars
Bryce Dallas Howard, Clint Eastwood, Cécile De France, Derek Jacobi, Jay Mohr, Jenifer Lewis, Matt Damon
---
'Hereafter' Movie Links

Official Hereafter Movie Website


Hereafter on IMDb