---
Green Zone (2010)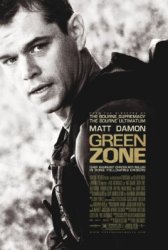 Starring: Matt Damon, Jason Isaacs, Brendan Gleeson, Greg Kinnear, Amy Ryan, Said Faraj
Director: Paul Greengrass
Release Date:

March 12th, 2010
Release Date:

12th March, 2010
Synopsis: During the U.S.-led occupation of Baghdad in 2003, Chief Warrant Officer Roy Miller and his team of Army inspectors were dispatched to find weapons of mass destruction believed to be stockpiled in the Iraqi desert. Rocketing from one booby-trapped and treacherous site to the next, the men search for deadly chemical agents but stumble instead upon an elaborate cover-up that inverts the purpose of their mission.
Status:
About the Movie
Green Zone is a 2010 action thriller war film written by Brian Helgeland and directed by Paul Greengrass. The film is "credited as having been 'inspired' by" the non-fiction 2006 book Imperial Life in the Emerald City by journalist Rajiv Chandrasekaran, which documented life in the Green Zone, Baghdad. The film stars Matt Damon, Amy Ryan, Greg Kinnear, and Brendan Gleeson. Production began in January 2008 in Spain and moved on to Morocco. The film was released in Australia and Russia on March 11, 2010, and in the USA and some other countries on March 12, 2010.
---
Movie Reviews
Movie Review from EmpireOnline.com

Like Halley's Comet, Wembley Stadium and Peter North, Green Zone has been a long time coming. Three years in the making, it's been subject to rewrites and reshoots and rumours.
But this is the standard MO of Paul Greengrass: cinema like sculpture — chiselling and chipping 'til the image emerges. And
when it does, as we've come to expect, it's striking. So, three years since Bourne's Ultimatum, since Greengrass and Damon sent that amnesiac assassin on his last (ever?) adventure, is this Bourne in Baghdad?

Read the Full Movie Review at EmpireOnline.com
Movie Review from TotalFilm.com

"I came here to find weapons and save lives," sighs Matt Damon in Green Zone, "and I haven't found shit!"
With the benefit of hindsight, it's no surprise to us that Chief Warrant Officer Roy Miller keeps coming up short in his quest to locate the weapons of mass destruction he's been dispatched to find in the immediate aftermath of the US-led invasion of Iraq.

Read the Full Movie Review at TotalFilm.com
Movie Review from Hollywood.com

Green Zone is a story we've already heard, shot in a manner we've already seen, and starring Matt Damon in a role he's already played. Remember those WMDs that were never found in Iraq and later exposed to be the invention of a dubious and poorly-vetted informant? Remember the misguided and hideously botched attempt at establishing democracy after the fall of Saddam and the violent, prolonged insurgency that ensued? If you've been away from the television for the past hour and somehow managed to forget any of these details, Green Zone is here to remind you.

Read the Full Movie Review at Hollywood.com
Movie Review from Guardian.co.uk

With Bloody Sunday and United 93, Paul Greengrass created two of the last decade's most unmissably powerful films, concerning different "wars on terror". He has also directed two movies in the Bourne action franchise, delivering a reliable payload of thrills in each case. His new movie, an action conspiracy thriller set in Baghdad in the chaos surrounding Saddam's fall in 2003, has something of both sorts of film, but for me it's his least satisfying work to date: almost a pastiche of the hyper-kinetic Greengrass action style.

Read the Full Movie Review at Guardian.co.uk
Movie Review from TimeOut.com

Thirty-five years after 'Network' and 'All the President's Men', in which journalists told uncomfortable truths and defended democracy, 'Green Zone' makes military personnel do the noble work which craven reporters shirk. The only consolation is that the movie is inspired by a work of journalism, Rajiv Chandrasekaran's 'Imperial Life in the Emerald City: Inside Iraq's Green Zone'.

Read the Full Movie Review at TimeOut.com
Movie Review from Movies.com

Though it feels like a spiritual sequel to the Bourne spy movies, which also starred Matt Damon (two of them were even directed by Green Zone helmer Paul Greengrass, whose shaky-cam signature is all over the film), Green Zone brushes away the comparison with a story grounded in modern historical context and a burning question for the Bush administration that still persists: Where exactly were those WMDs that led us into Iraq?

Read the Full Movie Review at Movies.com
---
'Green Zone' Stars
Amy Ryan, Brendan Gleeson, Greg Kinnear, Jason Isaacs, Matt Damon, Paul Greengrass, Said Faraj
---
'Green Zone' Movie Links

Official Green Zone Movie Website


Green Zone on IMDb