---
Perrier's Bounty (2009)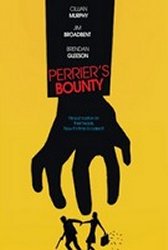 Starring: Cillian Murphy, Brendan Gleeson, Jim Broadbent, Domhnall Gleeson, Jodie Whittaker
Director: Ian Fitzgibbon
Release Date:

May 14th, 2010
Release Date:

26th March, 2010
Synopsis: Dublin loser Michael's £1,000 debt to local gangster Darren Perrier has just become due. When Michael's neighbour Brenda accidentally shoots dead one of Perrier's gay henchmen, the pair go on the run, stopping only to pick up Michael's estranged father Jim, who's desperate to stay awake because he believes the Grim Reaper told him in a dream that if he went to sleep, he'd never wake up again.
Status:
Perrier's Bounty Movie Trailer
About the Movie
Enjoyable Irish thriller with a blackly comic edge and strong performances from Murphy and Broadbent but there's never a sense of real danger and it occasionally feels over-familiar.
---
Movie Reviews
Movie Review from EmpireOnline.com

NEXT IN RECENTLY MINTED GENRE, Irish comedy noir, this contemporary Western set on the scabby side of Dublin features the dependable Brendan Gleeson, from In Bruges, as potty-mouthed gangster Perrier, prone to philosophising and putting one in the brain.

Read the Full Movie Review at EmpireOnline.com
Movie Review from TotalFilm.com

"There's a point to all this drivel," growls The Grim Reaper (Gabriel Byrne in VO) in Ian Fitzgibbon's intermittently amusing crime caper.
Actually there are three: don't borrow money from murderously impatient gangsters; a great cast does not a great film make; and eccentricity alone isn't enough to create the next In Bruges.

Read the Full Movie Review at TotalFilm.com
Movie Review from TimeOut.com

Unlike its cockney equivalent, the Irish gangster movie – however hackneyed its storyline – can usually be relied upon to deliver a modicum of wit and flair. 'Perrier's Bounty' is a prime example: it marries a predictable plot – Cillian Murphy owes money to some bad fellas, complications ensue – with a goodly portion of smart banter, off-kilter characterisation and knockabout violence.

Read the Full Movie Review at TimeOut.com
---
'Perrier's Bounty' Stars
Brendan Gleeson, Cillian Murphy, Domhnall Gleeson, Ian Fitzgibbon, Jim Broadbent, Jodie Whittaker
---
'Perrier's Bounty' Movie Links

Perrier's Bounty on IMDb