---
The Guard (2011)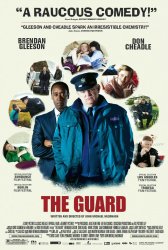 Starring: Brendan Gleeson, Don Cheadle, Liam Cunningham, David Wilmot, Rory Keenan, Mark Strong
Director: John Michael McDonagh
Release Date:

July 29th, 2011
Release Date:

19th August, 2011
Running Time: 96 Mins
Synopsis: Sergeant Gerry Boyle is a small-town Irish cop with a confrontational personality, a subversive sense of humor, a dying mother, a fondness for prostitutes, and absolutely no interest whatsoever in the international cocaine-smuggling ring that has brought straight-laced FBI agent Wendell Everett to his door.
Status:
titlexxx - The Guard Movie Trailer
About the Movie
The Guard is an Irish black comedy film written and directed by John Michael McDonagh, and starring Brendan Gleeson and Don Cheadle.
---
Movie Reviews
Movie Review from EmpireOnline.com

Kept busy as a support in big, international films, playing a Harry Potter eccentric or a Troy toga patriarch, Brendan Gleeson is a star character actor in Ireland. In Bruges, written and directed by Martin McDonagh, showed a film could profitably be built around his baggy, clear-eyed disappointment, especially if he gets reams of barbed, whimsical, profane, brutally funny dialogue. The Guard, written and directed by John Michael McDonagh, Martin's brother, is another blend of shaggy-dog story and genre picture.

Read the Full Movie Review at EmpireOnline.com
Movie Review from TotalFilm.com

The classic Irish sitcom Father Ted had a great conceit: its characters just happened to be priests, but first, foremost and with extreme fallibility they were, simply, humans. We've seen this trick before in cop films, but John Michael McDonagh's melancholic comedy displays much of Ted's cock-eyed charm. Without overstating its similarities to the darker In Bruges, directed by McDonagh's brother Martin, let's just say this: Mrs McDonagh should very proud indeed.

Read the Full Movie Review at TotalFilm.com
Movie Review from Guardian.co.uk

Ireland has developed a nice export line in eccentric crime comedies, but to make them work you generally need Colin Farrell or Brendan Gleeson – preferably both, as In Bruges showed. This one is by the brother of In Bruges director Martin McDonagh, and is almost as enjoyable, if less coherent. It has Gleeson on fine form as a unorthodox garda (special interests: class-A drugs, Russian literature, prostitutes, swimming, swearing) whose quiet corner of coastal Connemara becomes an international crime hotspot.

Read the Full Movie Review at Guardian.co.uk
Movie Review from TimeOut.com

The creation of a truly memorable movie character is a complex process: it's not simply a case of having a great script or a talented actor; equal attention must be paid to the world in which the character finds himself and the other figures he comes into contact, and often conflict, with. Garda Sergeant Gerry Boyle, the hero of writer-director John Michael McDonagh's debut feature 'The Guard', is a spectacular creation.

Read the Full Movie Review at TimeOut.com
Movie Review from Telegraph.co.uk

Nicely dry, pleasingly black, John Michael McDonagh's The Guard has gone down a storm in its native Ireland, where its distinctive brand of gallows humour has even pipped In Bruges, by McDonagh frère Martin, at the box office. Brendan Gleeson rules the show as a lone-ranger cop in Galway, whose response to an apparent spate of serial killings is one of stoic bemusement, a philosophical stance born of not being too attached to anyone or anything.

Read the Full Movie Review at Telegraph.co.uk
---
'The Guard' Stars
Brendan Gleeson, David Wilmot, Don Cheadle, John Michael McDonagh, Liam Cunningham, Mark Strong, Rory Keenan
---
'The Guard' Movie Links

Official The Guard Movie Website


The Guard on IMDb


The Guard on Wikipedia