---
Death Race (2008)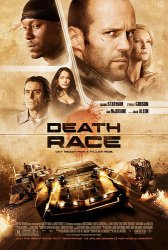 Starring: Jason Statham, Joan Allen, Ian McShane, Tyrese Gibson
Director: Paul W.S. Anderson
Release Date:

August 22nd, 2008
Release Date:

26th September, 2008
Synopsis: Ex-con Jensen Ames is forced by the warden of a notorious prison to compete in our post-industrial world's most popular sport: a car race in which inmates must brutalize and kill one another on the road to victory.
Status:
About the Movie
Death Race is a 2008 science-fiction-action film produced, written and directed by Paul W. S. Anderson. The film is a remake of the 1975 film Death Race 2000, based on Ib Melchior's short story "The Racer", and stars Jason Statham in the lead role. The remake had been in development since 2002, though production was delayed by disapproval of early screenplays then placed in turnaround following a dispute between Paramount Pictures and the producer duo Tom Cruise and Paula Wagner. Death Race was acquired by Universal Studios, and Anderson re-joined the project to write and direct. Filming began in Montreal in August 2007, and the completed project was released on August 22, 2008.
---
'Death Race' Stars
Ian McShane, Jason Statham, Joan Allen, Paul W.S. Anderson, Tyrese Gibson
---
'Death Race' Movie Links

Official Death Race Movie Website


Death Race on IMDb