---
Resident Evil: Retribution (2012)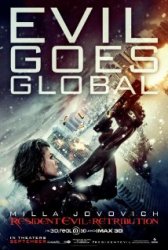 Starring: Milla Jovovich, Michelle Rodriguez, Kevin Durand, Sienna Guillory
Director: Paul W.S. Anderson
Release Date:

September 14th, 2012
Release Date:

28th September, 2012
Running Time: 96 Mins
Synopsis: Alice fights alongside a resistance movement in the continuing battle against the Umbrella Corporation and the undead.
Status:
Resident Evil: Retribution Movie Trailer
About the Movie
Resident Evil: Retribution is a 2012 science fiction action film written and directed by Paul W. S. Anderson. It is the fifth installment in the Resident Evil film series, based on the Capcom survival horror video game series Resident Evil, and the third to be written and directed by Anderson after the first film and the previous installment.
Retribution is a direct follow-on from the previous film Resident Evil: Afterlife, and focuses on Alice (Milla Jovovich) captured by the Umbrella Corporation, forcing her to make her escape from an underwater base in the Arctic Circle, used for testing the T-virus. The film has many returning actors and characters, along with new characters from the video game not featured in the previous films. Filming took place from October to December 2011 for a scheduled release date of September 14, 2012.
The film was released in 2D, 3D and IMAX 3D to a box-office success, grossing over $200 million worldwide. Film critics criticized the film for its characters, plot, and acting while praising the 3D, visual effects, and fight choreography. The Blu-ray and DVD for the film was released on December 21, 2012, and a sixth installment is currently planned by Sony.
---
'Resident Evil: Retribution' Stars
Kevin Durand, Michelle Rodriguez, Milla Jovovich, Paul W.S. Anderson, Sienna Guillory
---
'Resident Evil: Retribution' Movie Links

Resident Evil: Retribution on IMDb


Resident Evil: Retribution on Wikipedia