---
Avatar (special edition) (2009)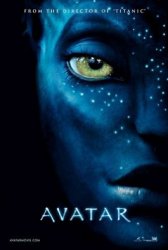 Starring: Sam Worthington, Michelle Rodriguez, Sigourney Weaver, Zoe Saldana, Giovanni Ribisi, CCH Pounder, Joel Moore, Stephen Lang
Director: James Cameron
Release Date:

August 27th, 2010
Release Date:

27th August, 2010
Synopsis: In the future, Jake, a paraplegic war veteran, is brought to another planet, Pandora, which is inhabited by the Na'vi, a humanoid race with their own language and culture. Those from Earth find themselves at odds with each other and the local culture.
Status:
Avatar (special edition) Movie Trailer
About the Movie
Avatar is a 2009 American epic science fiction film written and directed by James Cameron and starring Sam Worthington, Zoe Saldana, Sigourney Weaver, Stephen Lang, Joel David Moore, and Michelle Rodriguez. The film is set in 2154, when humans are mining a precious mineral called unobtanium on Pandora, a lush moon of a gas giant in the Alpha Centauri star system. The expansion of the mining colony threatens the continued existence of a local tribe of Na'vi—a humanoid species indigenous to Pandora. The film's title refers to the genetically engineered Na'vi-human hybrid bodies used by a team of researchers to interact with the natives of Pandora.
Development on Avatar began in 1994, when Cameron wrote an 80-page scriptment for the film. Filming was supposed to take place after the completion of Cameron's 1997 film Titanic, for a planned release in 1999, but according to Cameron, the necessary technology was not yet available to achieve his vision of the film. Work on the language for the film's extraterrestrial beings began in summer 2005, and Cameron began developing the screenplay and fictional universe in early 2006.
Avatar was officially budgeted at $237 million. Other estimates put the cost between $280 million and $310 million for production and at $150 million for promotion. The film was released for traditional 2-D viewing, 3-D viewing (using the RealD 3D, Dolby 3D, XpanD 3D, and IMAX 3D formats), and "4-D" viewing. The stereoscopic filmmaking was touted as a breakthrough in cinematic technology.
Avatar premiered in London on December 10, 2009, and was released overseas on December 16 and in the United States and Canada on December 18, to critical acclaim and commercial success. The film broke several box office records during its release and became the highest-grossing film of all time in the U.S. and Canada and worldwide, surpassing Titanic, which had held the records for the previous 12 years. It also became the first film to gross more than $2 billion. Following the film's success, Cameron stated that there will be at least two sequels. Avatar was nominated for nine Academy Awards, including Best Picture and Best Director, and won three, for Best Cinematography, Best Visual Effects, and Best Art Direction.
---
Movie Reviews
Movie Review from EmpireOnline.com

It was already the biggest film of all time, but for the three people who missed it on the big screen and the millions of fans, the good news is that this swiftly-released Special Edition is less cash-in and more treat. Eight (or so) minutes of extra footage have been added into the film, landing in four main scenes. There's an extended journey into the forest on Jake's (Worthington) first trip outside as an avatar, including a visit to the abandoned school where Grace (Sigourney Weaver) once taught the Na'vi.
After that comes a much more bombastic hunt scene, for which think The Lion King's stampede scene if the antelopes weighed a couple of tons and there were hunters on dragons chasing them. It's followed by a much-discussed but entirely inconsequential few extra seconds added to the alien sex scene.

Read the Full Movie Review at EmpireOnline.com
Movie Review from TotalFilm.com

Re-releasing The Biggest Movie Ever is something of a risky move.
With the initial shock and awe of Jim Cameron's breakthrough visuals now lessened by familiarity, there's a real opportunity for second-wave audiences to ask if the Emperor is looking a bit underdressed.
For anyone needing a reminder, paraplegic ex-Marine Jake (Sam Worthington) accepts a mining mission on the planet Pandora.
After obtaining his "avatar" body begins to embrace the culture of the indigenous Na'vi, much to the consternation of his military-cum-corporate-lackey superiors.

Read the Full Movie Review at TotalFilm.com
Movie Review from Hollywood.com

It takes a special film to transform an audience of movie critics, highly-trained skeptics who can dismiss the most painstakingly crafted work with a mere smirk and roll of the eyes, into a bunch of glowing, giddy teenagers, but that's precisely what happened earlier this week when Avatar, James Cameron's extraordinary new sci-fi epic, screened for the first time. Count me among the awestruck rabble; Avatar is a truly astounding piece of filmmaking, a leap forward in visual effects artistry that sets a lofty new standard by which future event films will be judged.

Read the Full Movie Review at Hollywood.com
Movie Review from Movies.com

James "King of The World" Cameron has a good reason for being the reportedly arrogant S.O.B. that he is: HE MAKES MOVIES THAT ARE AWESOME. Because it's such a monstrously dangerous thing, the big-budget mass appeal must-make-a-billionty-dollars-at-the-box-office-or-we-all-commit-suicide-from-the-shame-of-our-failure film. So many things can go wrong and then you wind up with Will Smith and giant mechanical spiders in Wild Wild West. But Cameron seemingly micromanages the hell out of everything until it's exactly the amount of shiny he wants it to be and, consequently, delivers hugely entertaining (and surprisingly moving) spectacles. Like this one.

Read the Full Movie Review at Movies.com
---
'Avatar (special edition)' Stars
CCH Pounder, Giovanni Ribisi, James Cameron, Joel Moore, Michelle Rodriguez, Sam Worthington, Sigourney Weaver, Stephen Lang, Zoe Saldana
---
'Avatar (special edition)' Movie Links

Official Avatar (special edition) Movie Website


Avatar (special edition) on IMDb