---
Resident Evil: Afterlife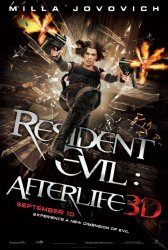 Starring: Milla Jovovich, Ali Larter, Kim Coates, Shawn Roberts, Sergio Peris-Mencheta, Spencer Locke
Director: Paul W.S. Anderson
Release Date:

September 10th, 2010
Release Date:

10th September, 2010
Synopsis: In a world ravaged by a virus infection, turning its victims into the Undead, Alice, continues on her journey to find survivors and lead them to safety. Her deadly battle with the Umbrella Corporation reaches new heights, but Alice gets some unexpected help from an old friend. A new lead that promises a safe haven from the Undead takes them to Los Angeles, but when they arrive the city is overrun by thousands of Undead - and Alice and her comrades are about to step into a deadly trap.
Status:
Resident Evil: Afterlife Movie Trailer
About the Movie
Resident Evil: Afterlife is an upcoming 3D science fiction action horror film written and directed by Paul W. S. Anderson, and starring Milla Jovovich, Ali Larter, Wentworth Miller, Kim Coates, Spencer Locke, Boris Kodjoe and Shawn Roberts. It is the fourth installment in a series of film adaptations based loosely on Capcom's survival horror video game series Resident Evil. It is also the first film in the series to be released in 3D. In the film Alice searches for and rescues remaining survivors in Los Angeles of the T-virus outbreak, who team up against Albert Wesker, the head of the Umbrella Corporation.
In May 2005, producers mentioned the possibility of following Resident Evil: Extinction with a sequel titled Afterlife. Extinction was released in 2007 and was a box office success prompting Afterlife to begin development in June 2008, with the script being written by Anderson that December. Elements from Resident Evil 5 were incorporated into the film.
Chris Redfield, a primary character from the video games will be featured for the first time in the film franchise. Other characters from the games and films who return include: Claire Redfield, Jill Valentine and Albert Wesker. Filming took place in Toronto from September to December 2009 using James Cameron's 3D Fusion Camera System. The film is scheduled to be released in 3D and IMAX 3-D theaters on September 10, 2010.
---
Movie Reviews
Movie Review from EmpireOnline.com

The same again, in 3D. Paul W.S. Anderson, who directed the first film but only produced the last two, is back at the helm, and Milla Jovovich reprises her role as zombie-killing warrior babe Alice. It's mostly set in a zombie-besieged prison in post-apocalypse Los Angeles, with the usual hard blokes, killer chicks, panicky deadweights and doomed bit-players taking hard knocks.
Anderson has a knack for uber-ridiculous, ultra slo-mo action scenes, which jolt some life into the picture, but an assembled-from-leftovers plot and dreadful speech bubble dialogue sink any involvement you might have with these drab, if buff remnants of humanity.

Read the Full Movie Review at EmpireOnline.com
Movie Review from Hollywood.com

"I don't know if I can do this much longer," groans an exhausted Milla Jovovich, shortly after dispatching a horde of corporate paramilitary goons in the explode-tastic introductory sequence of Resident Evil: Afterlife. I feel her pain. But Jovovich, in her fourth turn as Alice, the genetically enhanced, zombie-slaughtering heroine of the video game-inspired series, isn't the only one looking a bit tired. The entire film suffers from a severe case of franchise fatigue, the hallmarks of which no amount of "big guns, beautiful women, [and] dogs with heads that explode," as producer Jeremy Bolt so artfully boasts in the film's official press notes, can possibly hide.

Read the Full Movie Review at Hollywood.com
Movie Review from TimeOut.com

Franchise creator and director of the first film, Paul W S Anderson is back at the helm for the fourth 'Resident Evil' movie, which was shot in 3D but remains just as slickly two-dimensional as its predecessors. Like a multi-levelled computer game, 'Resident Evil: Afterlife' is just a string of self-contained set pieces, starting with an attack on the Umbrella Corporation's HQ in Tokyo by the mutated warrior Alice (Milla Jovovich) and a bevy of Alice clones. Stripped of her enhanced physical powers by Umbrella supremo Albert Wesker (Shawn Roberts), Alice nevertheless escapes to Arcadia, a mythical Alaskan haven from the global zombie plague, and from there to the fire-ravaged ruins of Los Angeles.

Read the Full Movie Review at TimeOut.com
Movie Review from Movies.com

After churning out four movies in the Resident Evil film franchise, Paul W.S. Anderson and Co. have officially run out of things to do. But while the story here feels a lot like what's come before (Alice joins a group of survivors, most of whom don't make it to the end, and then fights the big boss before an open-ended conclusion suggests there'll be yet another sequel in a few more years) and the cast often flounders on the edge of unintentional camp, Resident Evil: Afterlife does offer something new: 3D. Not just any old crappy post-converted 3D, either; the filmmakers used Avatar technology, which gives the film a crisp depth that makes the silly action watchable, whether it's two hot Alice clones diving out of windows or Ali Larter fighting a giant axe-wielding mutant in the shower.

Read the Full Movie Review at Movies.com
Movie Review from Telegraph.co.uk

In the fourth instalment of the franchise, the world is overrun by marauding zombies, and the invincible Alice — dressed to the nines, tooled up to the teeth — is on the hunt for fellow survivors of the fatal virus. Milla Jovovich sashays through the ludicrous mayhem once more, this time in 3D.

Read the Full Movie Review at Telegraph.co.uk
---
'Resident Evil: Afterlife' Stars
Ali Larter, Kim Coates, Milla Jovovich, Paul W.S. Anderson, Sergio Peris-Mencheta, Shawn Roberts, Spencer Locke
---
'Resident Evil: Afterlife' Movie Links

Resident Evil: Afterlife on IMDb