---
Devil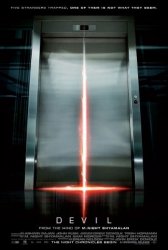 Starring: Geoffrey Arend, Bojana Novakovic, Logan Marshall-Green, Chris Messina, Caroline Dhavernas, Jacob Vargas
Director: Drew Dowdle, John Erick Dowdle
Release Date:

September 17th, 2010
Release Date:

17th September, 2010
Synopsis: Set in an office building, the film follows five strangers who become trapped in an elevator and, after several terrifying and inexplicable events occur, begin to turn against each other as they come to suspect that one of them is, in fact, the Devil.
Status:
About the Movie
Devil (also known as The Night Chronicles: Devil) is an upcoming supernatural thriller based on a story by M. Night Shyamalan, written by Brian Nelson, and directed by John Erick Dowdle. The film will be released on September 17, 2010, and will be the first of The Night Chronicles trilogy, which involves the supernatural within modern urban society.
---
Movie Reviews
Movie Review from EmpireOnline.com

Five people are trapped in a lift. A security guard – who can see but not hear what's going on in the cage – tries to convince the cop on the case (Chris Messina) that one of the passengers is the Devil, taking human form to harvest sinners. The lights go out, and a sleazy salesman is murdered. An intimate disaster movie with a Satanic twist, this is also an extra-claustrophobic take on Agatha Christie's And The There Were None as confined suspects are whittled down by the killer among them.

Read the Full Movie Review at EmpireOnline.com
Movie Review from TimeOut.com

After 'Lady in the Water', 'The Happening' and especially 'The Last Airbender', one would have thought any sane production company would want to keep M Night Shyamalan's name as far away as possible from their new product. And yet here comes 'Devil', the first instalment in the worryingly titled 'Night Chronicles', a series of standalone projects conceived – if not actually written and directed – by the one-time golden boy of mainstream Hollywood horror.

Read the Full Movie Review at TimeOut.com
Movie Review from Movies.com

The trailer for Devil spawned an unusual phenomenon earlier this year; when it played in select multiplexes across the country, the compelling horror movie premise seemed to have audiences on the hook — until M. Night Shyamalan's name dashed across the screen, eliciting a collective groan. (Thus was born "The Shyamalan Groan.") The good news is that Devil, which wasn't pre-screened for critics, isn't as terrible as that may suggest; taut and slickly directed, it's actually one of the more solid genre movies we've seen all year.

Read the Full Movie Review at Movies.com
---
'Devil' Stars
Bojana Novakovic, Caroline Dhavernas, Chris Messina, Drew Dowdle, Geoffrey Arend, Jacob Vargas, John Erick Dowdle, Logan Marshall-Green
---
'Devil' Movie Links

Official Devil Movie Website


Devil on IMDb