---
Julie & Julia (2009)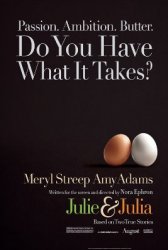 Starring: Meryl Streep, Amy Adams, Stanley Tucci, Chris Messina, Linda Emond, Mary Lynn Rajskub, Jane Lynch
Director: Nora Ephron
Release Date:

August 7th, 2009
Release Date:

11th September, 2009
Synopsis: Julia Child and Julie Powell are featured in writer-director Nora Ephron's adaptation of two bestselling memoirs: Powell's Julie & Julia and My Life in France, by Julia Child with Alex Prud'homme. Based on two true stories, Julie & Julia intertwines the lives of two women who, though separated by time and space, are both at loose ends… until they discover that with the right combination of passion, fearlessness and butter, anything is possible.
Status:
Julie & Julia Movie Trailer
About the Movie
Julie & Julia is an upcoming 2009 drama film, written and directed by Nora Ephron, depicting events in the life of famed chef Julia Child.
Ephron's screenplay is adapted from two books: My Life in France, Child's autobiography, written with Alex Prud'homme, and a memoir by Julie Powell. In August 2002, Powell started documenting online her daily experiences cooking each of the 524 recipes in Child's Mastering the Art of French Cooking, and she later began reworking that blog, The Julie/Julia Project, into a book, Julie & Julia: 365 Days, 524 Recipes, 1 Tiny Apartment Kitchen (Little, Brown, 2005). The paperback was retitled Julie & Julia: My Year of Cooking Dangerously (Back Bay Books, 2006). Both books adapted by Ephron were written and published in the same time frame of 2004-06.
Ephron began filming Julie & Julia in March 2008. In the first major motion picture based on a blog, Meryl Streep portrays Julia Child, and Amy Adams appears as Julie Powell. The film is scheduled for August 7, 2009 release.
---
'Julie & Julia' Stars
Amy Adams, Chris Messina, Jane Lynch, Linda Emond, Mary Lynn Rajskub, Meryl Streep, Nora Ephron, Stanley Tucci
---
'Julie & Julia' Movie Links

Official Julie & Julia Movie Website


Julie & Julia on IMDb