---
Fantastic Mr. Fox (2009)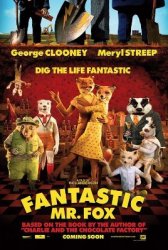 Starring: Bill Murray, George Clooney, Meryl Streep, Owen Wilson, Jason Schwartzman, Willem Dafoe, Adrien Brody, Wes Anderson, Brian Cox, Michael Gambon, Anjelica Huston
Director: Wes Anderson
Release Date:

November 25th, 2009
Release Date:

23rd October, 2009
Synopsis: Mr. Fox, Mrs. Fox, and all their fox babies live under a hill under a tree, along with Badger, Rabbit, Weasel, and all of their families. To make ends meet, every night, Mr. Fox steals a meal from one of the three crooked farmers. With his keen sense of smell, and the farmers' distinctive diets, Mr. Fox has no problem evading them. Determined to catch him, the farmers use spades and shovels to dig their way into the foxes' home, but Mr. and Mrs. Fox and their four children dig a tunnel deeper into the ground and manage to escape. The farmers even resort to using bulldozers in order to dig deeper into the ground, but to no avail. The three men therefore decide to play a waiting game, keeping watch on the entrance to the tunnel with shotguns at the ready, while their men patrol the area to make sure the foxes don't escape.
Status:
Fantastic Mr. Fox Movie Trailer
About the Movie
Fantastic Mr. Fox is a 2009 stop motion animated film based on Roald Dahl's book of the same name. It will be produced by Regency Enterprises and Indian Paintbrush, and will be released on November 25, 2009 by 20th Century Fox and Fox Searchlight Pictures. It features the voices of George Clooney, Meryl Streep, Jason Schwartzman, and Bill Murray. It is the first animated film directed by Wes Anderson, and 20th Century Fox's first stop-motion animated film.
Development began in 2004 as collaboration between Anderson and Henry Selick (who worked with Anderson on the 2004 film The Life Aquatic with Steve Zissou) under Revolution Studios. Revolution folded, Selick left to direct Coraline, and the project moved to Fox Animation Studios. Production began in London in 2007. Anderson chose to record voices outside of a studio.
---
'Fantastic Mr. Fox' Stars
Adrien Brody, Anjelica Huston, Bill Murray, Brian Cox, George Clooney, Jason Schwartzman, Meryl Streep, Michael Gambon, Owen Wilson, Wes Anderson, Willem Dafoe
---
'Fantastic Mr. Fox' Movie Links

Official Fantastic Mr. Fox Movie Website


Fantastic Mr. Fox on IMDb