---
Disaster Movie (2008)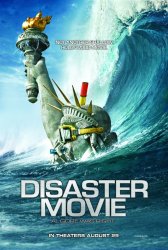 Starring: Matt Lanter, Kimberly Kardashian, Vanessa Minnillo, Carmen Electra, Nicole Parker, Gary Johnson, Crista Flanagan, Ike Barinholtz
Director: Jason Friedberg, Aaron Seltzer
Release Date:

August 29th, 2008
Release Date:

5th September, 2008
Synopsis: Over the course of one evening, an unsuspecting group of twenty-somethings find themselves bombarded by a series of natural disasters and catastrophic events.
Status:
Disaster Movie Teaser Trailer
About the Movie
Disaster Movie is a 2008 parody film. It is written and directed by Jason Friedberg and Aaron Seltzer, and stars Carmen Electra, Kim Kardashian, Matt Lanter, Nicole Parker, Crista Flanagan, Vanessa Minnillo, and Ike Barinholtz. The film was critically panned and received six nominations for the 29th Golden Raspberry Awards.
---
'Disaster Movie' Stars
Aaron Seltzer, Carmen Electra, Crista Flanagan, Gary Johnson, Ike Barinholtz, Jason Friedberg, Kimberly Kardashian, Matt Lanter, Nicole Parker, Vanessa Minnillo
---
'Disaster Movie' Movie Links

Disaster Movie on IMDb