---
Easy Virtue (2008)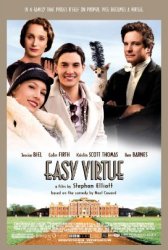 Starring: Jessica Biel, Ben Barnes, Kristin Scott Thomas, Colin Firth, Kimberley Nixon, Katherine Parkinson
Director: Stephan Elliott
Release Date:

May 22nd, 2009
Release Date:

7th November, 2008
Synopsis: Between world wars, the Whittaker's estate is sinking; only the iron will of Mrs. Whittaker staves off bankruptcy while she awaits her son John's return from the continent. To her dismay, he brings a bride: an American widow who races cars. The bride, Larita, thinks she and John will visit and then go to London, where he'll work and she'll race. But John is to the manor born, and mother is nothing if not a master at plans and manipulation. Soon it's all-out war between mother and bride, with John's father, a burnt out veteran of the Great War, in the bride's corner ineffectually. Mother has a plan to join with the neighboring estate; only Larita is in her way.
Status:
Easy Virtue Movie Trailer
About the Movie
Easy Virtue is a social comedy based on Noël Coward's play of the same name. The play was previously made into the silent movie Easy Virtue (1928) by Alfred Hitchcock. This version is directed by Stephan Elliott, written by Elliott and Sheridan Jobbins, and stars Jessica Biel, Ben Barnes, Colin Firth, and Kristin Scott Thomas.
The film was screened at the Toronto Film Festival, and London Film Festival[1] prior to its 7 November release by Pathé in the UK. Subsequently, the film has also screened at the Rio Film Festival, and MEIFF in Abu Dhabi, and Rome Film Festival Most recently, it closed the Adelaide Film Festival prior to the Australian theatrical release on March 12, 2009.
---
'Easy Virtue' Stars
Ben Barnes, Colin Firth, Jessica Biel, Katherine Parkinson, Kimberley Nixon, Kristin Scott Thomas, Stephan Elliott
---
'Easy Virtue' Movie Links

Official Easy Virtue Movie Website


Easy Virtue on IMDb