---
The King's Speech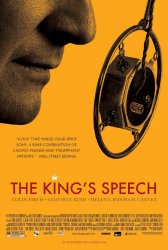 Starring: Colin Firth, Helena Bonham Carter, Geoffrey Rush, Derek Jacobi, Robert Portal, Richard Dixon
Director: Tom Hooper
Release Date:

December 10th, 2010
Release Date:

7th January, 2011
Synopsis: Tells the story of the man who became King George VI, the father of Queen Elizabeth II. After his brother abdicates, George ('Bertie') reluctantly assumes the throne. Plagued by a dreaded stutter and considered unfit to be king, Bertie engages the help of an unorthodox speech therapist named Lionel Logue. Through a set of unexpected techniques, and as a result of an unlikely friendship, Bertie is able to find his voice and boldly lead the country through war.
Status:
The King's Speech Movie Trailer
About the Movie
The King's Speech is a 2010 British historical drama film directed by Tom Hooper from a script by David Seidler. The film won the 2010 Toronto International Film Festival People's Choice Award.
The film stars Colin Firth as King George VI and Geoffrey Rush as speech therapist Lionel Logue, who helped George VI overcome a stammer. Filming commenced in the United Kingdom in November 2009. The film was given a limited release in the United States on 26 November 2010 and it will be general release across the UK on 7 January 2011.
---
'The King's Speech' Stars
Colin Firth, Derek Jacobi, Geoffrey Rush, Helena Bonham Carter, Richard Dixon, Robert Portal, Tom Hooper
---
'The King's Speech' Movie Links

Official The King's Speech Movie Website


The King's Speech on IMDb

Available Now on DVD and Blu-ray
The King's Speech
Star: Colin Firth, Helena Bonham C | Dir: Tom Hooper
Blu-ray | Cert R | 118 Mins
Buy Now
Rating

The King's Speech
Star: Colin Firth, Helena Bonham C | Dir: Tom Hooper
DVD | Cert R | 118 Mins
Buy Now
Rating

Related Movies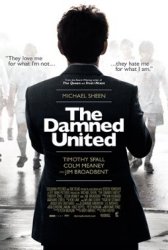 The Damned United is told from the perspective of Brian Clough, the new manager of Leeds United. Clough despises Leeds,... Read More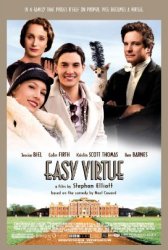 Easy Virtue is a social comedy based on Noël Coward's play of the same name. The play was previously made... Read More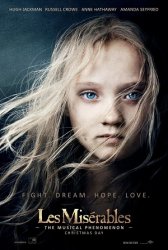 Les Misérables is a musical drama film produced by Working Title Films and distributed by Universal Pictures, based on the... Read More