---
Fair Game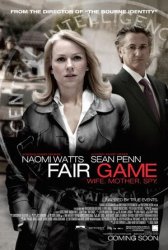 Starring: Naomi Watts, Sonya Davison, Vanessa Chong, Anand Tiwari, Stephanie Chai, Michael Kelly
Director: Doug Liman
Release Date:

November 5th, 2010
Release Date:

4th March, 2011
Running Time: 108 Mins
Synopsis: Plame's status as a CIA agent was revealed by White House officials allegedly out to discredit her husband after he wrote a 2003 New York Times op-ed piece saying that the Bush administration had manipulated intelligence about weapons of mass destruction to justify the invasion of Iraq.
Status:
titlexxx - Fair Game Movie Trailer
About the Movie
Fair Game is a 2010 thriller film directed by Doug Liman and starring Naomi Watts and Sean Penn. The film is based on Valerie Plame's memoir, Fair Game: My Life as a Spy, My Betrayal by the White House. Naomi Watts stars as Plame along with Sean Penn as Plame's husband, Joseph C. Wilson. It was released in 2010 and was one of the official selections competing for the Palme d'Or at the 2010 Cannes Film Festival.
---
Movie Reviews
Movie Review from EmpireOnline.com

Though Paul Greengrass took over for the sequels, Doug Liman directed The Bourne Identity, and is thus responsible for the current state of the espionage thriller. This is a companion-piece to Greengrass' Green Zone, applying the style of Robert Ludlum conspiracy nonsense to the all-too-true hash of the Iraq War where, in these films at least, the reasoned, pragmatic, surprisingly sensible advice of the CIA was junked by rabid administration hawks in a scramble to find an excuse to blast Saddam Hussein.

Read the Full Movie Review at EmpireOnline.com
Movie Review from TotalFilm.com

In the age of WikiLeaks, the Valerie Plame affair – in which the undercover CIA operative was publicly exposed after her ex-diplomat husband Joseph Wilson ticked off the Bush White house by accusing them of lying about WMDs in Iraq – can almost sound quaint in hindsight. Of course, it was anything but; Doug Liman's skilful, well-constructed drama proves a timely reminder not just of one woman's ruined career, but how a petulant administration abused its elected power with sinister intent.

Read the Full Movie Review at TotalFilm.com
Movie Review from Guardian.co.uk

As well as being a fantastically boring film, with Team-America-style performances from Sean Penn and Naomi Watts, Fair Game is a deafening aria of self-pity and self-importance from the liberal overclass in Washington and Hollywood. It is a movie with right on its side, and never was that right proclaimed more shrilly or more smugly, or with a more obtuse insistence on privileging soft-focus personal drama over political relevance. It is complacent and fatuous in a way that only a preeningly well-intentioned Hollywood drama can be.

Read the Full Movie Review at Guardian.co.uk
Movie Review from TimeOut.com

In an attempt to ensure some Hollywood glitter at last year's Cannes, Doug Liman's star-driven, serious-minded if hardly mould-breaking Iraq War drama was awarded a slot in competition. Was allowing some of the world's fiercest critics to sink their teeth into it really the best marketing move, not to mention having it compete against films which contained, say, catfish-based cunnilingus? A year on, and looking at it with none of the festival hurly burly, the film emerges as an absorbing, unhysterical thriller that largely rejects the clichés of the genre.

Read the Full Movie Review at TimeOut.com
Movie Review from Movies.com

If you watched the news while all this was going down, you don't really need to see this movie, but it's good that it exists. It's not just that it's a well-made adult drama about real events that, sadly, seem both unbelievable and too horrifyingly real, it's the kind of movie that will anger audiences whose memories extend past the last two years. They used to make these kinds of films a lot in the '70s and early '80s, stuff like All The President's Men, political dramas about corruption at the highest levels of power.

Read the Full Movie Review at Movies.com
Movie Review from Telegraph.co.uk

What Julie Taymor's going for in The Tempest is perfectly laudable on paper. In practice, it makes you shudder and want to hide. Helen Mirren is Prospera – a female Prospero – whose costumes would lead you to believe she's spent most of her time in island banishment slaughtering birds of prey. Sandy Powell got a freak Oscar nomination for these, and for covering everyone else in zips. Taymor made a compelling case for Titus Andronicus in her 1999 Titus, indulgences notwithstanding.

Read the Full Movie Review at Telegraph.co.uk
---
'Fair Game' Stars
Anand Tiwari, Doug Liman, Michael Kelly, Naomi Watts, Sonya Davison, Stephanie Chai, Vanessa Chong
---
'Fair Game' Movie Links

Official Fair Game Movie Website


Fair Game on IMDb


Fair Game on Wikipedia