---
The International (2009)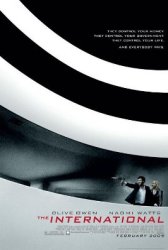 Starring: Clive Owen, Naomi Watts, Armin Mueller-Stahl, James Rebhorn, Ulrich Thomsen, Victor Slezak, Jack McGee
Director: Tom Tykwer
Release Date:

February 13th, 2009
Release Date:

27th February, 2009
Synopsis: In The International, an edge-of-your-seat action thriller, Interpol Agent Louis Salinger and Manhattan Assistant District Attorney Eleanor Whitman are determined to bring to justice one of the world's most powerful banks. Uncovering illegal activities including money laundering, arms trading, and the destabilization of governments, Salinger and Whitman's investigation takes them from Berlin to Milan to New York and to Istanbul. Finding themselves in a high-stakes chase across the globe, their relentless tenacity puts their own lives at risk as the bank will stop at nothing, even murder, to continue financing terror and war.
Status:
The International Movie Trailer
About the Movie
The International is a 2009 thriller film, directed by Tom Tykwer and starring Clive Owen and Naomi Watts. In the tradition of 1970s conspiracy thriller films, such as The Conversation (1974) and The French Connection (1971), the film follows a pair who investigate corruption within a banking institution. Production began in Berlin in September 2007. The film opened the 2009 Berlin International Film Festival on February 5, 2009. The film was inspired by the Pakistani Bank of Credit and Commerce International banking scandal.
---
'The International' Stars
Armin Mueller-Stahl, Clive Owen, Jack McGee, James Rebhorn, Naomi Watts, Tom Tykwer, Ulrich Thomsen, Victor Slezak
---
'The International' Movie Links

The International on IMDb