---
Final Destination 5 (2011)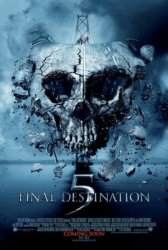 Starring: Nicholas D'Agosto, Emma Bell, Miles Fisher, Ellen Wroe, Jacqueline MacInnes Wood, Tony Todd
Director: Steven Quale
Release Date:

August 12th, 2011
Release Date:

26th August, 2011
Running Time: 92 Mins
Synopsis: Survivors of a suspension-bridge collapse learn there's no way you can cheat Death.
Status:
titlexxx - Final Destination 5 Movie Trailer
About the Movie
Final Destination 5 is a 2011 3D horror film written by Eric Heisserer and directed by Steven Quale. It is the fifth installment to the Final Destination film franchise and stars Nicholas D'Agosto, Emma Bell, Miles Fisher, Arlen Escarpeta, David Koechner, and Tony Todd (who is the only returning cast member of the series). The film is later ultimately revealed to be the prequel to the first Final Destination film.
The motion picture's world premiere was August 4, 2011 at the Fantasia Festival in Montreal, Canada. It was released in Real D 3D and digital IMAX 3D.
---
Movie Reviews
Movie Review from EmpireOnline.com

With Terrence Malick urging cinema to engage with the Big Questions, so Final Destination 5, the latest instalment in the death-finds-a way horror franchise, takes up the mantle from The Tree Of Life to inquire of the universe: "Who dies on a massage table?" P.J. Byrne's Isaac as it happens, third of the film's death-cheaters, whose unfortunate passing comes care of a conflation of acupuncture needles, cleaning fluid, loose screws (something of a FD motif), vibrating cell phone, candle and small statue of Buddha.

Read the Full Movie Review at EmpireOnline.com
Movie Review from TotalFilm.com

"We all gotta get off this bus!" squeals the God-fodder teetering over a broken bridge in this gleeful fourth sequel, whose shiny, stabby 3D outdoes the previous instalment. Nicholas D'Agosto is the savant who survives the disaster – one of the moneyshot sequences of the year – but for how long? Although the exposition scenes distract from the grisly business of throwing sharp things show-stoppingly screenwards, writer Eric Heisserer and director Stephen Quale's witty kills are such a blast you may wish they hadn't wrapped the series up so neatly.

Read the Full Movie Review at TotalFilm.com
Movie Review from Hollywood.com

Though ostensibly successful, 2009's The Final Destination represented to many a horror franchise on its last hackneyed legs. Rote, uninspired and humorless, it scored a (modest) hit only by virtue of the novelty -- and added ticket price -- of its 3D transfer. Two years later, Final Destination 5 arrives with a slightly tweaked formula, a beefed-up storyline, actors you might actually recognize, and genuine, honest-to-goodness 3D.

Read the Full Movie Review at Hollywood.com
Movie Review from Guardian.co.uk

Time, once again, to set the nail-guns teetering on a high shelf, perhaps in a classroom full of six-year-olds. This, incredibly, is the fifth Final Destination movie, and we might not be finished yet. Never has the first word in a title been more inappropriate. Fans of this franchise know precisely what to expect, and the film delivers it with wit and flair. The Final Destination movies are like inspired Kentucky Fried Movie sketches, but also like deadpan satires of a particular sub-genre they invented in the first place.

Read the Full Movie Review at Guardian.co.uk
Movie Review from TimeOut.com

The second 'Final Destination' movie to use 3D visuals makes far better use of the extra dimension, its eye-poking images and comically drawn-out death scenes inciting amused gasps of disbelief rather than screams of terror. The usual fatalistic events are set in motion by a bridge collapse, a spectacular set-piece featuring rippling tarmac, clanging girders and twanging wires. Foreseen by Sam (Nicholas D'Agosto), while en route to a corporate retreat, the disaster spares the 'Lucky Eight' survivors, whom Death then stalks for the rest of the movie.

Read the Full Movie Review at TimeOut.com
Movie Review from Telegraph.co.uk

At the end of Final Destination 4, I wondered if Death had delighted us long enough. He hasn't, it turns out, and has some new tricks up his grubby black sleeves in instalment five, including characteristically elaborate bucket-kickings in a gymnastics hall, a massage parlour, and (oh lordy) a laser eye-surgery clinic – a ghastly, searing use of 3D that'll have whole audiences whimpering and scrunching up those peepers.

Read the Full Movie Review at Telegraph.co.uk
---
'Final Destination 5' Stars
Ellen Wroe, Emma Bell, Jacqueline MacInnes Wood, Miles Fisher, Nicholas D'Agosto, Steven Quale, Tony Todd
---
'Final Destination 5' Movie Links

Official Final Destination 5 Movie Website


Final Destination 5 on IMDb


Final Destination 5 on Wikipedia