---
Frozen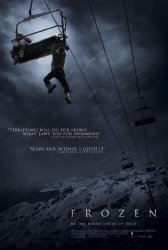 Starring: Emma Bell, Shawn Ashmore, Kevin Zegers, Ed Ackerman, Rileah Vanderbilt, Kane Hodder
Director: Adam Green
Release Date:

February 5th, 2010
Release Date:

24th September, 2010
Synopsis: A typical day on the slopes turns into a chilling nightmare for three snowboarders when they get stranded on the chairlift before their last run. As the ski patrol switches off the night lights, they realize with growing panic that they've been left behind dangling high off the ground with no way down.
Status:
About the Movie
Frozen is a 2010 American thriller film directed by Adam Green and stars Emma Bell, Kevin Zegers and Shawn Ashmore as a group of three skiers who are stranded on a chairlift and forced to make life-or-death choices that prove more perilous than staying put and freezing to death.
---
Movie Reviews
Movie Review from EmpireOnline.com

Best buds Dan (Kevin Zegers) and Joe (Shawn Ashmore), along with Dan's girlfriend Parker (Emma Bell), unwisely hop on the last ski-lift of the weekend and are stranded 100 feet in the air when the mountain is closed. No-one will find them for days, and wolves gather below. Yes, it's Open Water up a mountain, but none the less effective a suspense-horror item for all that, with some sharp writing — tensions between the trio aren't helped by their predicament — and nigh-on infallible rock-and-a-hard-place plotting.

Read the Full Movie Review at EmpireOnline.com
Movie Review from TotalFilm.com

Three teenagers stranded on a ski lift doesn't sound like the most enthralling concept for a thriller, but writer/director Adam Green (Hatchet) takes the idea to nail-chomping heights. As night falls and some vicious winter weather rolls in, the three kids (Emma Bell, Shawn Ashmore, Kevin Zegers) are faced with making a bone-breaking jump to the wolf-ridden ground below or sitting tight and waiting for the ski club to open again… in just about a week's time.

Read the Full Movie Review at TotalFilm.com
Movie Review from Movies.com

In the classic mystery Laura, actor Clifton Webb, as a snooty guy with quips, famously says, "I should be sincerely sorry to see my neighbor's children devoured by wolves." But he didn't live long enough to see this movie or he'd have thought twice about that assertion. Because this Open Water-like bit of business about something really horrible you hope never happens to you (and it's a premise that they make seem way too scarily possible) forgets to ratchet up suspense by giving its three PYTs nothing to do but wait to become ice-cold snowboarder snacks.

Read the Full Movie Review at Movies.com
Movie Review from Telegraph.co.uk

Hell is a stuck ski-lift in this increasingly nifty one-gimmick chiller, about a trio of friends who are left hanging overnight by inattentive resort staff. Should they jump? What's that howling below? The taut set-up is enjoyable all by itself, but it's the rising tide of three-way recriminations and despair that gives this film emotional clout. May furnish the nervy with even more reasons never to ski.

Read the Full Movie Review at Telegraph.co.uk
---
'Frozen' Stars
Adam Green, Ed Ackerman, Emma Bell, Kane Hodder, Kevin Zegers, Rileah Vanderbilt, Shawn Ashmore
---
'Frozen' Movie Links

Official Frozen Movie Website


Frozen on IMDb