---
Finding Nemo (2003)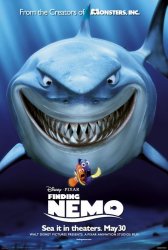 Starring: Albert Brooks, Ellen DeGeneres, Alexander Gould, Willem Dafoe, Brad Garrett, Allison Janney
Director: Andrew Stanton
Release Date:

May 30th, 2003
Release Date:

10th October, 2003
Synopsis: Marlin (a clown fish) is a widower who only has his son Nemo left of his family after a predator attack. Years later, on Nemo's first day of school, he's captured by a scuba diver and taken to live in a dentist office's fish tank. Marlin and his new absent-minded friend Dory set off across the ocean to find Nemo, while Nemo and his tankmates scheme on how to get out of the tank before he becomes the dentist's niece's new pet.
Status:
Finding Nemo Movie Trailer
About the Movie
Finding Nemo is a 2003 American computer-animated film written by Andrew Stanton, directed by Stanton and Lee Unkrich and produced by Pixar Animation Studios for Walt Disney Pictures. It tells the story of the overly protective clownfish Marlin, voiced by Albert Brooks, who along with a regal tang called Dory, voiced by Ellen DeGeneres, searches for his son Nemo, voiced by Alexander Gould. Along the way he learns to take risks and that his son is capable of taking care of himself.
The film received overwhelmingly positive reviews and won the Academy Award for Best Animated Feature. It was a financial blockbuster as it grossed over $864 million worldwide. It is the best-selling DVD of all time, with over 40 million copies sold as of 2006 and is the highest grossing G-rated movie of all time. In 2008, the American Film Institute named it the tenth greatest animated film ever made during their 10 Top 10. It was also the first Pixar animations studio film not to be released in November.
---
'Finding Nemo' Stars
Albert Brooks, Alexander Gould, Allison Janney, Andrew Stanton, Brad Garrett, Ellen DeGeneres, Willem Dafoe
---
'Finding Nemo' Movie Links

Finding Nemo on IMDb