---
Ratatouille (2007)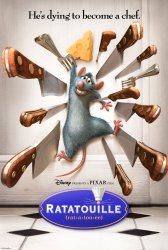 Starring: Ian Holm, Brian Dennehy, Peter O'Toole, Brad Garrett, Janeane Garofalo, Will Arnett, James Remar, John Ratzenberger
Director: Brad Bird
Release Date:

June 29th, 2007
Release Date:

12th October, 2007
Synopsis: A rat named Remy dreams of becoming a great French chef despite his family's wishes and the obvious problem of being a rat in a decidedly rodent-phobic profession. When fate places Remy in the sewers of Paris, he finds himself ideally situated beneath a restaurant made famous by his culinary hero, Auguste Gusteau. Despite the apparent dangers of being an unlikely - and certainly unwanted - visitor in the kitchen of a fine French restaurant, Remy's passion for cooking soon sets into motion a hilarious and exciting rat race that turns the culinary world of Paris upside down.
Status:
Ratatouille Movie Trailer
About the Movie
Ratatouille is a 2007 computer-animated film produced by Pixar and distributed by Walt Disney Pictures. The film was the eighth movie produced by Pixar, and was directed by Brad Bird, who took over from Jan Pinkava in 2005. The title refers to a French dish which is served late in the film, and is also a play on words on the species of the main character.
The plot follows Remy, a rat who dreams of becoming a chef and tries to achieve his goal by forming an alliance with a Parisian restaurant's garbage boy. Ratatouille was released on June 29, 2007 in the United States, to both critical acclaim and box office success, and later won the Academy Award for Best Animated Feature, among other honors.
---
'Ratatouille' Stars
Brad Bird, Brad Garrett, Brian Dennehy, Ian Holm, James Remar, Janeane Garofalo, John Ratzenberger, Peter O'Toole, Will Arnett
---
'Ratatouille' Movie Links

Ratatouille on IMDb