---
Toy Story 3 (2010)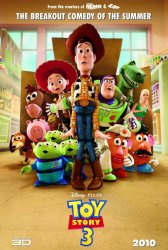 Starring: Tom Hanks, Tim Allen, Joan Cusack, Wallace Shawn, John Ratzenberger, Michael Keaton, Whoopi Goldberg, R. Lee Ermey, Timothy Dalton
Director: Lee Unkrich
Release Date:

June 18th, 2010
Release Date:

23rd July, 2010
Synopsis: Andy is heading off to college, and his toys, including Woody and Buzz, are worried about their uncertain future. Andy decides to keep Woody, and put all of the other toys in the attic. After some twists and turns, the toys are accidentally donated to Sunnyside Daycare Center. There, they befriend such toys, such as Lots-O'-Huggin' "Lotso" Bear and a smooth-talking Ken doll. The toys are keen on starting a new life at the daycare, but isn't long before they discover that Andy is actively searching for them, so they decide to escape.
Status:
Toy Story 3 Movie Trailer
Toy Story 3 Teaser Trailer
About the Movie
Toy Story 3 is an upcoming American computer-animated 3-D film, being produced by Pixar Animation Studios and released by Walt Disney Pictures. It is the third and final installment in the Toy Story series and is scheduled for release on June 18, 2010, in the United States. and July 26,2010 in the United Kingdom. Lee Unkrich, who edited the previous films and co-directed the second, takes over as director.
---
'Toy Story 3' Stars
Joan Cusack, John Ratzenberger, Lee Unkrich, Michael Keaton, R. Lee Ermey, Tim Allen, Timothy Dalton, Tom Hanks, Wallace Shawn, Whoopi Goldberg
---
'Toy Story 3' Movie Links

Official Toy Story 3 Movie Website


Toy Story 3 on IMDb