---
Flash Gordon (1980)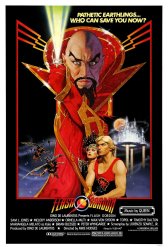 Starring: Sam J. Jones, Melody Anderson, Max von Sydow, Topol, Ornella Muti, Timothy Dalton, Brian Blessed, Peter Wyngarde
Director: Mike Hodges
Release Date:

December 5th, 1980
Synopsis: Flash Gordon is an American football player who along with Dale Arden are returning to New York City after a long vacation, until the plane they are passengers on crashes into the laboratory of Russian scientist Dr. Hans Zarkov. Both Flash and Dale become unwilling passengers on-board Zarkov's rocket-ship as Zarkov sets a course for the planet Mongo. Arriving on Mongo, Flash and his companions find the planet is under the ruler-ship of the evil Emperor Ming the Merciless and Ming is attacking Earth with natural disasters as he bids to destroy Earth. Realising that Earth and the human race is in mortal danger, Flash decides to unite the kingdoms of Mongo and combine the forces of rivals Prince Baron and Prince Vultan to rescue Dale, who is to become Ming's wife and defeat Ming and save Earth from annihilation.
Status:
Flash Gordon Movie Trailer
About the Movie
Flash Gordon is a 1980 science fiction film, made by Starling Productions, Ltd. for Famous Film Productions B.V., and based on King Features Syndicate's eponymous comic strip character Flash Gordon, created by Alex Raymond. The film was directed by Mike Hodges and produced and presented by Dino De Laurentiis. It stars Sam J. Jones, Melody Anderson, Chaim Topol, Max von Sydow, Timothy Dalton, Brian Blessed and Ornella Muti. The screenplay was written by Lorenzo Semple, Jr., and adapted by Michael Allin. It intentionally uses a camp style similar to the 1960s TV series Batman (for which Semple had written many episodes) in an attempt to appeal to fans of the original comics and serial films. The film is notable for its soundtrack composed, performed and produced by the rock band Queen.
---
'Flash Gordon' Stars
Brian Blessed, Max von Sydow, Melody Anderson, Mike Hodges, Ornella Muti, Peter Wyngarde, Sam J. Jones, Timothy Dalton, Topol
---
'Flash Gordon' Movie Links

Flash Gordon on IMDb

Related Movies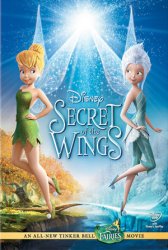 Tinker Bell: Secret of the Wings is a 2012 computer-animated comedy film, based on the Disney Fairies franchise, produced by... Read More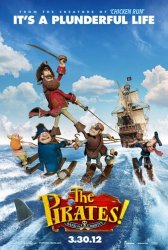 The Pirates! In an Adventure with Scientists, known internationally as The Pirates! Band of Misfits, is a 3-D stop-motion animated... Read More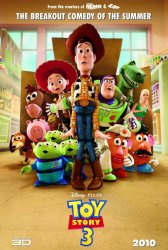 Toy Story 3 is an upcoming American computer-animated 3-D film, being produced by Pixar Animation Studios and Walt Disney Pictures,... Read More