---
Flipped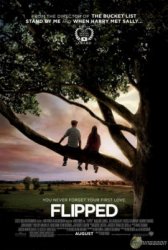 Starring: Madeline Carroll, Callan McAuliffe, Rebecca De Mornay, Anthony Edwards, John Mahoney, Penelope Ann Miller
Director: Rob Reiner
Release Date:

September 10th, 2010
Release Date:

12th November, 2010
Synopsis: Juli Baker devoutly believes in three things: the sanctity of trees (especially her beloved sycamore), the wholesomeness of the eggs she collects from her backyard flock of chickens, and that someday she will kiss Bryce Loski. Ever since she saw Bryce's baby blues back in second grade, Juli has been smitten. Unfortunately, Bryce has never felt the same. Frankly, he thinks Juli Baker is a little weird--after all, what kind of freak raises chickens and sits in trees for fun? Then, in eighth grade, everything changes. Bryce begins to see that Juli's unusual interests and pride in her family are, well, kind of cool. And Juli starts to think that maybe Bryce's brilliant blue eyes are as empty as the rest of Bryce seems to be.
Status:
About the Movie
Flipped is a film directed by Rob Reiner. It is an adaptation of the novel Flipped by Wendelin Van Draanen. It had a limited release in the US on August 6, 2010. The film had a wide release on August 27, 2010.
Callan McAuliffe will play Bryce while Madeline Carroll will play Juli. Aidan Quinn and Penelope Ann Miller will take the roles of Juli's parents, and Kevin Weisman has been given the role of Juli's mentally disabled uncle, while Shane Harper and Michael Bolten will play her two brothers. Anthony Edwards and Rebecca De Mornay will play Bryce's parents, and John Mahoney will take on the role of his grandfather.
---
'Flipped' Stars
Anthony Edwards, Callan McAuliffe, John Mahoney, Madeline Carroll, Penelope Ann Miller, Rebecca De Mornay, Rob Reiner
---
'Flipped' Movie Links

Flipped on IMDb