---
Forrest Gump (1994)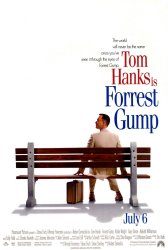 Starring: Tom Hanks, Robin Wright Penn, Gary Sinise, Mykelti Williamson, Sally Field
Director: Robert Zemeckis
Release Date:

July 6th, 1994
Release Date:

7th October, 1994
Synopsis: Forrest, Forrest Gump is a simple man with little brain activity but good intentions. He struggles through childhood with his best and only friend Jenny. His 'mama' teaches him the ways of life and leaves him to choose his destiny. Forrest joins the army for service in Vietnam, finding new friends called Dan and Bubba, he wins medals, starts a table tennis craze, creates a famous shrimp fishing fleet, inspires people to jog, create the smiley, write bumper stickers and songs, donating to people and meeting the president several times. However this is all irrelevant to Forrest who can only think of his childhood sweetheart Jenny. Who has messed up her life. Although in the end all he wants to prove is that anyone can love.
Status:
Forrest Gump Movie Trailer
About the Movie
Forrest Gump is a 1994 American comedy-drama film based on the 1986 novel of the same name by Winston Groom. The film, directed by Robert Zemeckis, stars Tom Hanks, Robin Wright Penn, and Gary Sinise. The story is of Forrest Gump, a simple man who comes from Alabama, and his journey through life meeting historical figures, influencing popular culture, and experiencing firsthand historic events of the late 20th century.
The film differs substantially from Winston Groom's novel on which it was based. Filming took place in late 1993, mainly in Georgia, North Carolina and South Carolina. Extensive visual effects were used to incorporate the protagonist into archived footage as well as for developing other scenes. An extensive soundtrack was featured in the film, and its commercial release made it one of the top selling albums of all time.
Released in the United States on July 6, 1994, Forrest Gump was well received by critics and became a commercial success as the top grossing film in North America released that year. The film ended up earning over $677 million worldwide during its theatrical run. The film garnered multiple awards and nominations, including Academy Awards, Golden Globe Awards, People's Choice Awards, and Young Artist Awards, among others. Since the film's release, varying interpretations have been made of the film's protagonist and its political symbolism. In 1996, a themed restaurant opened based on the film, and has since expanded to multiple locations worldwide. Although a screenplay was developed on Groom's second novel, as of 2010, no sequel has been officially greenlit.
---
'Forrest Gump' Stars
Gary Sinise, Mykelti Williamson, Robert Zemeckis, Robin Wright Penn, Sally Field, Tom Hanks
---
'Forrest Gump' Movie Links

Forrest Gump on IMDb